Obama's Trade Bill Passes Senate as Impasse Reached on Spy Law
Richard Rubin, Erik Wasson and Carter Dougherty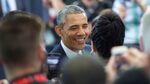 The Senate passed President Barack Obama's fast-track trade proposal, then left for a one-week break without finding a way to extend U.S. spy programs the president said are needed to protect against terrorism.
The 62-37 vote on the trade bill Friday sends the measure to the Republican-led House, where leaders may struggle to gain enough support to send it to Obama for his signature.
After a Memorial Day recess, the Senate plans to return to Washington on May 31 to try to reach agreement on extending National Security Agency spy programs. Kentucky Senator Rand Paul, a Republican presidential candidate, early Saturday blocked any continuation of the programs, which expire June 1.
Senators did manage to pass a bill continuing federal highway funding through July. The House left Washington on Thursday.
The trade measure would let Obama submit trade agreements to Congress for an expedited, up-or-down vote without amendments. The president has said he wants to complete a 12-nation Trans-Pacific Partnership and send it for approval under that procedure.
"If done right, these agreements are vital to expanding opportunities for the middle class, leveling the playing field for American workers and establishing rules for the global economy," Obama said in a statement Friday.
Democratic opponents of the trade measure included Senate Minority Leader Harry Reid of Nevada and Massachusetts Senator Elizabeth Warren, who entered into an unusually public intra-party spat with Obama over the measure. Many Democrats remain stung by the 1994 North American Free Trade Agreement, which is blamed by labor unions for a decline in U.S. manufacturing jobs.
'Our Part'
House Speaker John Boehner said in a statement that when the trade bill arrives in his chamber, "Republicans will do our part, but ultimately success will require Democrats putting politics aside and doing what's best for the country."
Republicans control the House with 245 seats to 188 for the Democrats, meaning 217 votes are needed to pass a bill. Representative Tom Cole, an Oklahoma Republican and a Boehner ally, has said 180 to 200 party members will back the trade measure. At least 18 Democrats have said they will vote for it.
The trade bill, H.R. 1314, would give Obama and the next president fast-track power for six years.
Multinational Corporations
"We've always known that one of the paths to more good-paying jobs is more exports," said Senator Ron Wyden, an Oregon Democrat supporting the bill. "They're going to buy our wine, our computers, our helicopters, our planes."
Senator Jeff Merkley, an Oregon Democrat, criticized the lack of minimum-wage standards and enforcement for trade disputes.
"We should not give away our sovereignty to international panels" that can undermine consumer laws, he said.
The final passage vote came several days after a dispute over amendments almost prevented backers from getting enough votes to advance the bill.
Majority Leader Mitch McConnell of Kentucky secured an agreement to move forward by promising supporters of the Export-Import bank a vote next month on renewing the bank's charter, which expires June 30.
Another difficult issue was a push by Senators Debbie Stabenow, a Michigan Democrat, and Rob Portman, an Ohio Republican, to require trade agreements considered under fast-track authority to have enforceable provisions against currency manipulation.
Treasury Secretary
Treasury Secretary Jacob J. Lew said in a letter to Senate leaders Tuesday that he would recommend the president veto the trade measure if it included that amendment.
In the end, the Senate voted 70-29 to instead adopt language crafted by Wyden and Republican Orrin Hatch of Utah in cooperation with the Treasury Department. It would allow currency rules in trade agreements but wouldn't require them for fast-track consideration.
Senators defeated an amendment introduced by Warren that would have required the Labor Department to investigate allegations of labor violations by countries that have trade agreements with the U.S.
Opposition to the trade bill by most Senate Democrats included a rebellion last week that temporarily thwarted the legislation. It was a rebuke for Obama, who in recent weeks has been in meetings, on the telephone and in personal appeals seeking every possible Democratic vote.
More Votes
In the House, fourth-ranking House Democrat Xavier Becerra of California said Thursday that Obama needs more votes to win passage of the fast-track trade measure.
"Does the president have the votes? I'd say at this stage he does not," Becerra said at a meeting with Bloomberg reporters and editors. "I think it's more a matter of: Can Republicans gather Republican votes?"
Paul began complicating the Senate's schedule on Wednesday with a 10-hour talk-a-thon protesting the attempt to renew the NSA's surveillance program.
Early Saturday, Senators refused to consider a House plan to revise NSA spying programs or a two-month extension of the current law. After McConnell then proposed keeping the NSA measures in place for an extra week or even a day, Paul objected, and McConnell declared an impasse.