Carson Wins Southern Republican Leadership Conference Straw Poll
The retired neurosurgeon beats out Wisconsin Governor Scott Walker and Senator Ted Cruz.
By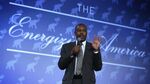 Ben Carson won a presidential straw poll at Saturday at the Southern Republican Leadership Conference in Oklahoma City.
The retired neurosurgeon beat out Wisconsin Governor Scott Walker, who placed second, and Senator Ted Cruz, who placed third. Walker has yet to officially launch a campaign for the Republican presidential nomination.
Carson received just over a quarter of the 958 votes cast at the conference, which his team had made it a priority to win. National Journal reported his backers went so far as to buy 100 tickets and sell them at lower prices to activists.
Cruz's third-place showing came despite the fact that the senator—who represents neighboring Texas—had to cancel his speech at the three-day Republican gathering as the Senate remained in session trying to finish up legislation before the Memorial Day break.