Yellen Haunted by Taper Tantrum as Fed Rate Rise Draws Closer
Jeanna Smialek and Liz Capo McCormick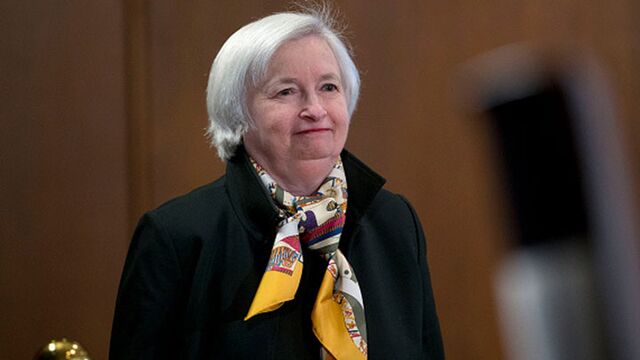 Janet Yellen is haunted by the taper tantrum as the Federal Reserve lays the groundwork for its first interest-rate increase in almost a decade.
Chair Yellen and her colleagues are fretting that bond yields near record lows could surge once the Fed starts raising rates, according to minutes of their April meeting released this week. Higher costs of everything from mortgages to car loans could result, potentially putting the fragile economic recovery at risk.
Yellen has seen this movie before. In 2013, when then-Chairman Ben S. Bernanke suggested that the Fed could start tapering a bond-buying program intended to stimulate the economy, Treasury yields jumped. A replay could prompt the Fed to pursue a more gradual tightening path, said Gennadiy Goldberg, U.S. strategist at TD Securities USA LLC in New York.
"It could really be a concern for them that maybe they shouldn't hike as quickly or as much if we do get a taper-tantrum-like scenario, where some of the tightening is done for them by a massive market readjustment," Goldberg said. "I don't think it will change the timing for the first rate hike," he said, "but the pace of future hikes, yeah."
Changes in the structure of the Treasury market could exaggerate the reaction to a rate increase, Fed officials said at last month's meeting. Strategist have cited reduced liquidity as one catalyst for increased volatility.
June Meeting
Most Fed officials have said they are likely to raise rates this year, though they haven't specified precisely when. At their April meeting, officials said only that conditions for a rate rise probably won't fall into place by their next meeting in June, the minutes showed. Economists expect an increase in September, according to a Bloomberg survey.
How markets react when they do finally tighten is a source of concern for Fed officials, who have kept the benchmark federal funds rate near zero since December 2008.
Expectations that the Fed will continue its easy money policies have helped keep Treasury yields low. The 10-year note yielded 2.19 percent late Thursday, and it has averaged 1.99 percent this year.
"Policy makers highlighted possible risks related to the low level of term premiums," or the extra compensation investors demand for holding long-term bonds, the minutes showed. Officials noted that it's possible that those levels could "rise sharply -- in a manner similar to the increase observed in the spring and summer of 2013" during the so-called taper tantrum.
At the meeting, officials said preparing markets for a rate rise could reduce the fallout.
Careful Communications
"Careful committee communications regarding its policy intentions could help damp any resulting increase in market volatility around the time of the commencement of normalization," some officials said, according to the minutes.
Yellen has already sounded warning signals. Responding to questions at a May 6 forum in Washington, she said both stocks and bonds are richly valued.
"Long-term interest rates are at very low levels," Yellen said. "We could see a sharp jump in long-term rates" after liftoff, she said. Stocks and Treasuries fell on her comments.
The challenge for the Fed is cooling off markets without sowing panic, said Lori Heinel, chief portfolio strategist at the investment management unit of State Street Corp.
"We know that in the past when they've talked about raising rates we've seen sharp sell-offs in bond markets," she said.
Assurances Dropped
The Fed has also sought to prepare markets by dropping assurances that interest rates will stay low, stressing instead that they could be raised at any meeting, depending on how economic data unfold.
The central bank in April repeated that it will tighten when it sees further improvement in the labor market and is "reasonably confident" inflation will move back up to its 2 percent goal in the medium term.
Reduced liquidity in the Treasury market could exaggerate the reaction to a rate increase, Fed officials said at last month's meeting.
Liquidity may have declined because regulations put into effect in the wake of the 2008 financial crisis have made it costly for banks to hold large inventories of bonds on their balance sheets.
Concerns over illiquidity in the Treasury market in particular were magnified after Treasury yield fluctuated by almost 0.4 percentage point on Oct. 15.
Volatility Index
The Bank of America Merrill Lynch's MOVE Index, a measure of expected Treasury-market volatility, reached 90.99 on May 6, the highest level since March 3, and was at 86.11 on Thursday.
"The Fed can't change that the structure of the market has changed," said Tim Paulson, fixed-income investment strategist at Lord Abbett & Co. in Jersey City, New Jersey, which has $139.1 billion in assets under management. "But what is important is that they acknowledged it, and that's significant."
Discussions of bond-market volatility and financial stability more broadly show that policy makers are watching more than just unemployment and inflation as they consider when to raise rates.
"Financial stability has essentially become a third mandate for the Federal Reserve," Jim Bianco, president of Bianco Research LLC in Chicago, wrote in a research note published on Thursday.