Two Senate Republicans Predict Short Extension of NSA Spying
Chris Strohm and Heidi Przybyla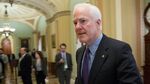 Two U.S. Senate Republicans predicted Friday that their chamber will have enough votes to pass a short extension of three U.S. spy programs until Congress and the White House can come up with a final plan.
Senator John Cornyn of Texas told reporters in Washington he doesn't think there are enough votes in the Senate to pass a White House-backed bill that would continue most of the programs while blocking the National Security Agency from collecting bulk records on Americans. The spying authority is scheduled to lapse June 1.
Instead, Cornyn and Senator Roy Blunt of Missouri said the Senate will vote for a short-term extension. They didn't rule out the possibility of passing an extension of only one week.
"We're not going to let the program go dark," Cornyn said. The Senate will do "whatever we need to do," he said.
The bill supported by the White House, and passed this month by the House, would require the government to get a court order to obtain phone records of potential terrorists from telecommunications companies.
Senate Majority Leader Mitch McConnell, a Kentucky Republican, has proposed a two-month extension of the NSA's current authority as his chamber tries to wrap up business today and leave Washington for a one-week Memorial Day break. The Senate also is working to pass trade legislation and a two-month extension of federal highway funding.
Senator Ron Wyden, an Oregon Democrat, said Friday he'll block any extension of the current law. Wyden joined Kentucky Republican Rand Paul during an extended floor speech earlier this week opposing the data program.
Opposing Extension
"Any extension at all, I'm going to oppose it," Wyden said. "And by the way, the House is gone, so what's the point?"
Wyden said he and his allies are trying to gather votes for the House bill. "We're going to pull out all the stops," he said.
Cornyn said it would be "a reasonable arrangement" to guarantee that Paul would be allowed to offer amendments to any bill negotiated during a short-term extension. Giving Paul a guarantee could clear procedural obstacles and enable the Senate to vote as early as Friday.