The Real Reason Men Are More Confident Than Women About Getting Jobs
Contrary to popular assertions, women aren't necessarily shooting themselves in the foot
By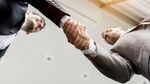 When hunting for their first post-college job, men have a clear advantage over women: They feel surer that they'll be successful, and more of them expect a good salary, new data show.
Just 16 percent of college women said they were "absolutely confident" they'll secure a job after graduating, compared with 27 percent of college men, according to job search engine Monster, which polled 1,500 adults in April. Men weren't just more likely to feel better about landing a job. They were also more likely to say that college prepared them well for their career and say their first job would pay them well: 48 percent of men expected to be paid more than $50,000 a year at their first job, a belief that just 33 percent of women shared, the poll found.
The poll may be based on a relatively small sample, but it underscores previous research suggesting men tend to be more confident and assertive about their abilities than women. In an internal review, Hewlett-Packard famously found its male employees were likely to apply for promotions when they believed they met 60 percent of the qualifications listed, while its female employees shied away from doing so unless they thought they met 100 percent of the qualifications. Other studies have suggested that women ask for negotiations less than men and that women experience greater anxiety when they're negotiating. 
The usual takeaway from such research is that women need to get more aggressive and stand up for themselves more. Others, though, say pointing the finger at women for not being bold enough misses the point. 
"This really isn't a problem with women's confidence. In fact, it's not about women at all," says Anna Beninger, director of research at Catalyst, a nonprofit that advocates for the advancement of women at work. "It really is about the substantial challenges women face on an organizational level." 
A number of studies support Beninger's viewpoint. Last year, we analyzed Bloomberg data and found that, even when they have similar levels of experience and similar educations, women with MBAs are paid less than men. Women also have a harder time than men finding a sponsor, a key figure who can act as an advocate for them in the workplace; are disliked as bosses by both men and women; and are more often penalized for trying to negotiate compensation. 
In other words, the "lack of confidence" women display may just be a cold realism, not an inherent character trait.