Obama's Fast-Track Trade Bill Advances Toward Final Senate Vote
Richard Rubin, Erik Wasson and Carter Dougherty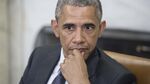 The U.S. Senate cleared the way for final passage of President Barack Obama's fast-track trade bill as lawmakers sought to finish measures on U.S. spying authority and highway funding before a week-long break.
The Senate Friday advanced the trade measure, 61-38, after defeating proposed language on currency manipulation that was opposed by Obama.
"We all know that trade is important for American workers and American jobs," Majority Leader Mitch McConnell of Kentucky said on the Senate floor. "And we all know that, by passing this legislation, we can show we're serious about advancing new opportunities for bigger American paychecks, better American jobs, and a stronger American economy."
Senators also plan to complete work on legislation to extend U.S. spying programs that lapse May 31 and continue federal highway funding for two months. The crunch of work is occurring as lawmakers try to leave town for their one-week Memorial Day break.
The fast-track bill, H.R. 1314, would let Obama submit trade agreements to Congress for an expedited, up-or-down vote without amendments. The president has said he wants to complete a 12-nation Trans-Pacific Partnership and send it for approval under that procedure.
The measure is opposed by a number of Democrats, including Minority Leader Harry Reid of Nevada. Many Democrats remain stung by the 1994 North American Free Trade Agreement, which is blamed by labor unions for a decline in U.S. manufacturing jobs.
"Everyone knows I disagree with the reason for the trade bill," Reid said on the Senate floor. "It's not going to help the people I want to help. I'm happy multinational corporations are doing well but they're not my" first priority.
Currency Policy
Currency policy has been a difficult issue. On a 70-29 vote, the Senate adopted language crafted by Republican Orrin Hatch of Utah and Democrat Ron Wyden of Oregon in cooperation with Obama's Treasury Department. It would allow currency rules in trade agreements but wouldn't require them for fast-track consideration.
The Senate defeated, 51-48, an amendment offered by Senators Debbie Stabenow, a Michigan Democrat, and Rob Portman, an Ohio Republican, that would have required trade agreements considered under fast-track authority to have enforceable provisions against currency manipulation.
Senators also defeated an amendment sponsored by Senator Jeff Flake, an Arizona Republican, to eliminate the Trade Adjustment Assistance program aiding workers who lose jobs because of trade deals. Also rejected was one by Senator Elizabeth Warren, a Massachusetts Democrat, that would eliminate from trade agreements a procedure that allows companies to sue governments over violations of trade rules.
12 Countries
An amendment pushed unsuccessfully by Senator Sherrod Brown, an Ohio Democrat, would limit the president's authority in the Asia region to a negotiation only with the 12 countries currently part of the Trans-Pacific Partnership.
Senate passage would send the trade measure to the Republican-led House, where leaders may struggle to gain enough support to send it to Obama for his signature.
The spying bill presents a challenge for the Republican-led Senate, where McConnell opposes a measure passed by the House. House members have already left Washington for their recess.
John Cornyn, the second-ranking Republican in the Senate, said the chamber will vote on the House-passed bill, which would continue most of the government spying programs while blocking the National Security Agency from collecting bulk records on Americans. If that fails, and a two-month extension of existing rules also fails, Cornyn, of Texas, said the Senate will seek a shorter extension to prevent the spy programs from lapsing.
"The Senate isn't going to get jammed by the House and the House isn't going to let" the program go dark, he said.