Libyan Power Struggle Threatens Fund's Goldman, SocGen Suits
Kit Chellel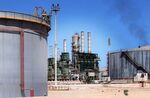 A fight for control of Libya's $60 billion sovereign wealth fund threatens to derail its multibillion dollar lawsuits against Goldman Sachs Group Inc. and Societe Generale SA.
Since the Libyan Investment Authority's London law firm quit in April, two competing factions have claimed control, hiring separate lawyers and public relations firms.
There is a "state of chaos" in the litigation, lawyer Andrew Hunter told a London judge Friday. He represents a potential witness in the Societe Generale case who says confidential files have been mishandled.
"It hasn't been possible to get consent from the LIA" over the documents, Hunter said, "because there is no one at the LIA to get consent from."
Libya's sovereign wealth fund sued Goldman Sachs and Societe Generale, each for more than $1 billion, over investment deals that turned sour. Since the cases were filed last year, armed conflict between rival administrations in Tripoli and Tobruk has led to escalating violence and turmoil in the North African nation, ruled for 42 years by dictator Muammar Qaddafi before his death in 2011.
The Tripoli faction has hired law firm Stephenson Harwood and appointed Abdulmagid Breish as LIA chairman, the group said in a statement this month.
"There has been an attempt by other persons to take control of the LIA," Breish said in the statement. "I look forward to demonstrating conclusively that their claim is baseless, and to focusing all our efforts on returning to the Libyan people, through the litigation, the funds that we believe have been stolen from them."
Rival Firms
Another group, based in Tobruk, appointed Keystone Law to run the litigation and said it will also seek a judge's ruling that it manages the cases. An official for the Tobruk group said in a statement after the hearing that it will pursue the case in the London courts.
"LIA is putting in place arrangements to pursue the litigations vigorously and on a stable footing," the group said in a statement issued by public relations firm Davidson Ryan Dore.
The Tobruk faction dissolved the LIA's litigation committee on April 20, according to Hunter, who's client has been granted anonymity in the Societe General case.
The litigation is "highly politicized in Libya," he told the judge.
Breish said in a statement after the hearing that "we reject any attempts to derail the proceedings for political gain."
Lawyers for the rival LIA factions didn't appear before the judge because the fund doesn't have officially recognized legal representation amid the dispute, Hunter said.
After Islamist militias seized control of Tripoli and formed a parliament in 2014, the internationally recognized government moved east to Tobruk. The country's oil output has fallen to about a third of pre-2011 levels.
Before it's here, it's on the Bloomberg Terminal.
LEARN MORE