politics
Hillary Clinton Says Republican Hopefuls Are Afraid to 'Stand Up to the Tea Party and Talk Radio'
As the State Department releases a batch of her e-mails, the Democratic front-runner takes aim at the right.
By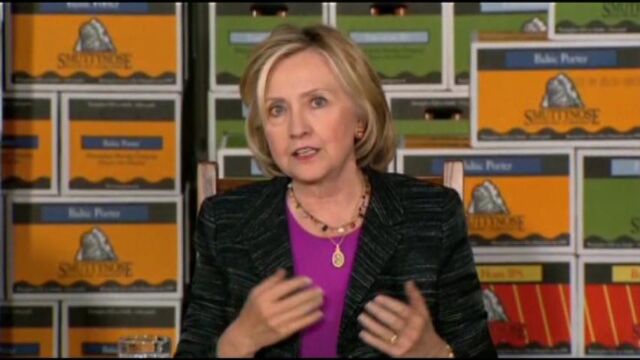 Hillary Clinton chided congressional Republicans and presidential hopefuls for their opposition to Export-Import Bank, saying Friday that their priorities are "absolutely backwards" when it comes to helping Americans workers and businesses.
"It is wrong that Republicans in Congress are trying to cut off this vital lifeline for small businesses," the former secretary of state and Democratic presidential candidate said at Smuttynose Brewery in Hampton, N.H. 
"It seems as though they would rather threaten the livelihoods" of the estimated 164,000 workers whose jobs are supported by the bank "than stand up to the Tea Party and talk radio," she said.
Clinton spoke at a roundtable on small business in the brewery's warehouse just as the State Department released a small trove of her e-mails on Libya. She did not address the release but kept her focus on exports, community banks and other issues related to small business.
The Export-Import Bank guarantees loans for American businesses involved in exporting products. Its authorization expires June 30, and some Republicans have voiced strong opposition to keeping the agency alive. The Chamber of Commerce and other establishment groups continue to support the bank, but conservative groups such as Americans for Prosperity and the Club for Growth want to see it dismantled.
Speaking before the latter group in February, former Florida Governor Jeb Bush said the bank was one of sources of government overreach that he believes "should be phased out." Florida Senator Marco Rubio has been opposed to the agency since at least 2012 and has reiterated his position in recent weeks. Other Republican presidential candidates also want to see the bank lose its charter.
The bank's current chairman, Fred Hochberg, is a longtime Clinton supporter who helped raise money for Hillary Clinton in 2008. He's contributed more than $18,000 to various Clinton political campaigns and has also given between $10,000 and $25,000 to the Clinton Foundation.
Before it's here, it's on the Bloomberg Terminal.
LEARN MORE