The U.S. Is About to Change the Way It Calculates GDP
Victoria Stilwell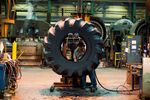 The way some parts of U.S. gross domestic product are calculated are about to change in the wake of the debate over persistently depressed first-quarter growth.
In a blog post published Friday, the Bureau of Economic Analysis listed a series of alterations it will make in seasonally adjusting data used to calculate economic growth. The changes will be implemented with the release of the initial second-quarter GDP estimate on July 30, the BEA said.
Although the agency adjusts its figures for seasonal variations, growth in any given first quarter still tends to be weaker than in the remaining three, economists have found, a sign there may be some bias in the data. It's a phenomenon economists call "residual seasonality."
"BEA is aware of the potential for residual seasonality in GDP and its components, and the agency is looking for ways to minimize this phenomenon," the division said in the post. More information will be available in a BEA Survey of Current Business report scheduled for mid-June publication.
The agency is exploring ways to address possible issues in measures of federal government defense spending, where research has shown that first- and fourth-quarter growth rates are lower on average, the BEA said, reiterating a statement given to Bloomberg published May 18.
It will also start seasonally adjusting some inventory components that currently aren't, and also some data from the U.S. Census Bureau's quarterly services survey, it said. The latter should boost the accuracy of consumer spending estimates, it said. The changes to the calculations will cover the period from 2012 to the present.
Additionally, the BEA is reviewing all series that figure into the GDP calculations to find and fix any leftover biases that exist within its current methodology.