Draghi Urges Reforms as ECB Trapped in Unconventional Policy
Alessandro Speciale and Joao Lima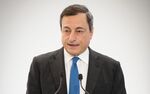 Mario Draghi urged governments to ensure the European Central Bank can do its job, repeating his push for an acceleration of structural reforms.
The ECB President said euro-area countries must accelerate overhauls of their economies not only to raise growth and bring down unemployment, but also to allow monetary policy makers to deliver faster inflation.
"Low potential growth can have a direct impact on the tools available to monetary policy to deliver its mandate," Draghi said in a speech at an ECB-sponsored forum in Sintra, Portugal, on Friday.
Failure to act "increases the likelihood that central-bank policy runs into the constraint set by the effective lower bound for interest rates, which is not far below zero," he said. This also increases the likelihood that policy makers will have to "resort recurrently to unconventional policies to meet our mandate," he said.
Potential growth, which measures the rate of expansion at which inflation ignites, is currently estimated by international institutions to be below 1 percent in the euro-area, compared with above 2 percent in the U.S. With output potential projected to remain well below pre-crisis levels, structural unemployment risks staying above 10 percent, he said.
Greek Talks
Draghi's latest comments on the need for economic overhauls come as negotiations over Greece's bailout hit another stumbling block. German Chancellor Angela Merkel said on Friday that greater efforts are needed to unlock aid funds after late-night negotiations with Greek Prime Minister Alexis Tsipras failed to yield any sign of a breakthrough.
While Draghi didn't specifically mention Greece, he said governments need to provide clarity on reforms and a commitment to deliver to allow companies and consumers to adjust.
"If there is uncertainty about the timeline over which reforms will be implemented, or about the commitment of successive governments to maintaining them, it will take longer for firms and households to adjust their expectations and the benefits of reforms will be delayed," he said.
Revamping economies would also help boost tax revenues and so make public debts and deficits more sustainable and so economies less likely to be attacked by investors, Draghi said.