BofA: These Charts Show Wall Street Is Way Too Scared to Take Risks
The financial industry goes baaaa.
By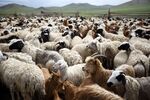 The scars of the financial crisis are still evident on Wall Street —both from veterans who managed to survive the culling of the herd and new employees whose entrance into the business was delayed by the mass carnage. 
As such, it's understandable that those who work in the financial industry are shying away from sticking their necks out. Savita Subramanian, Bank of America Merrill Lynch's chief U.S. equity strategist, highlights how this newfound wariness is playing out on Wall Street.
"[S]igns of career risk are evident in a host of metrics across the industry," she says.
In a recent note, the strategist points out a number of cautious, herd-like behaviors that demonstrate risk avoidance on the Street and suggests ways to profit from those dynamics.
Sheep on the Sell Side
Excluding the energy sector, sell-side analysts have very similar opinions on the earnings per share that will be generated by S&P 500 companies. "While low estimate dispersion was once thought to be a sign of certainty, transparency and predictability of earnings, today this may spell complacency or even reluctance to deviate from guidance," Subramanian writes.
Fence-Straddling on the Buy Side

Fund managers are nearly perfectly balanced between defensive and cyclical sectors, suggesting they have "no conviction for —or against— an improving economy," says Subramanian.
Active managers are moving further away from the benchmark

At first blush, this development would appear to be an exception to the rule that career risks are front of mind for Wall Street, but Subramanian figures this actually bolsters her argument.
It would be difficult for active managers to justify their hefty fees if their holdings were broadly similar to that of the S&P 500, so it makes sense for them to be different, she says.
"The key mandate for consultants in selecting funds is to avoid paying active fees for benchmark hugging, which makes sense. This has created an environment in which funds with high active share are seen as more attractive," Subramanian writes.
She explains the consequence of this trend:
[M]aintaining high active share inadvertently forces fund managers into smaller names; so even if a mega cap stock looks attractive, it is hard to be meaningfully overweight without allocating an outsized amount of assets. This has created a world where mid-caps are trading at near all time premia to larger stocks.
Her advice? "Buy mega cap big old ugly stocks."