This Time, It's HR Getting Fired
Zenefits handles some of human resources' main tasks: Insurance and 401(k) signups
By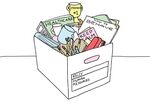 Human resources, that catchall term for an often-maddening web of health-care and financial services, has given rise to an industry of middlemen. Most businesses with fewer than 1,000 employees arrange for health insurance or 401(k) management not through the companies doing the insuring or investing but through local brokers who collect fees for making the arrangements on their behalf. While companies may not like the extra bureaucracy, it's long been preferable to negotiating deals with benefits providers on their own, especially given all the photocopying and faxing required to add even a single employee to a health plan, dental plan, and vision plan.
San Francisco startup Zenefits is offering smaller businesses an alternative: cloud software that simplifies the process of filling out forms, collects all the needed HR data in one interface, and comes with preset rates for its lists of available insurers. And Zenefits doesn't charge for the software. It makes money through fees health insurers pay for signups, and says they're lower than most brokers' fees but add up quickly. "We figured out that if we can be that central hub system, the central system of record, we can make so much money on all these different spokes," says Chief Executive Officer Parker Conrad. "It makes sense to give the hub and all the connective tissue away."
At two years old, Zenefits has 1,000 employees. The company says that in January it had $20 million in annual revenue from clients it expects to renew each year, a twentyfold increase from the previous January, and Conrad says he's shooting for $100 million in renewable annual revenue. Among business-software startups, only messaging app maker Slack Technologies comes close to that kind of growth, and investors have noticed. On May 6, Zenefits announced it had raised $500 million at a $4.5 billion valuation, bringing its total venture funding to $583.6 million. Health insurance is the main source of Zenefits' revenue, Conrad says.

On a new worker's first day, she can log in to Zenefits' website to reach a main screen that lets her register for health plans, 401(k), stock options, flexible spending accounts, commuter withholding, and other benefits. Workers can enter their own info, select from lists of health and financial plans, and sign documents with a finger on any monitor that works as a touchscreen. Later, the system can be used to keep track of the worker's vacation days and time sheets. It can also manage job termination.
A onetime product manager at biotech giant Amgen, Conrad started the online investment manager SigFig with college roommate Mike Sha, but Sha fired him over personal differences, he says. (Sha didn't respond to a request for comment.) Conrad co-founded Zenefits in 2012 on his last day at SigFig. He says it was a low point, though it probably wasn't his toughest. He beat testicular cancer while in his 20s, and before that had to take a year off from college for flunking classes while spending all his time working as managing editor of the Harvard Crimson.
With a rudimentary version of Zenefits he coded, Conrad, 35, made it into startup accelerator Y Combinator, where his co-founder, Laks Srini, rebuilt the site. By summer of 2013, the founders had six employees and about six insurance sales a day. Conrad didn't think much of that until Mike Huerta, a sales rep at brokerage BenefitMall, e-mailed him looking for work. Many brokers, Huerta wrote, would be thrilled to add 10 clients a year. "I'd never had a way to see how we compared to other brokers," says Conrad , who made Huerta employee No. 9. "That was the first time."
As Zenefits expands its business model beyond health brokerage, it's working with payroll managers including ADP, Paychex, ZenPayroll, and Intuit, taking a 20 percent cut of its referrals. Investors include Fidelity Management & Research, TPG Capital, actor Jared Leto, Ashton Kutcher's venture firm, A-Grade Investments, and Andreessen Horowitz, which says its largest current single investment is in Zenefits. (Bloomberg LP, which owns Bloomberg Businessweek, is an investor in Andreessen Horowitz.)
In November the Utah Insurance Department, facing pressure from brokers, banned Zenefits on the grounds that its free software constituted an anticompetitive rebate on health insurance. In April, following a backlash from the tech industry, Utah Governor Gary Herbert signed a law lifting the ban, allowing Zenefits to operate in the state without changing its business model. "Utah is open for business, and we work very hard to make sure we have a level playing field so all businesses have a chance to compete," Herbert said in a statement.
Some traditional brokers say Zenefits' growth carries drawbacks. "A lot of customers want to get the real personalized experience of having a private, smaller-scale broker," says James Milber, who runs Milber Insurance Agency in San Francisco. He says Zenefits won't put him out of business, although "we are going to lose some market share." Paul Mifsud, CEO of insurance broker and benefits adviser Melita Group in Santa Clara, Calif., says the business is more local than Zenefits' model suggests. But, he says, "I'm not discounting them, because they have $500 million."
Zenefits, which opened a second office, in Phoenix, in November, has more than doubled its head count over the past six months; Conrad says he's aiming for 2,000 employees by yearend. He says about 10,000 companies use his software but wouldn't disclose revenue or say if Zenefits is profitable.
The pace of Zenefits' growth may be more than a little unwieldy. In December, Conrad broke his vow never to set up an HR department. "I wanted to force the company to live off our own product and nothing else," Conrad says. But as Zenefits neared 800 workers, he says, he started to worry about problems the cloud couldn't solve, such as, for example, sexual harassment complaints: "There's obviously some stuff that you can't build into software."
The bottom line: Zenefits has raised almost $600 million for its centralized small business HR software.
Before it's here, it's on the Bloomberg Terminal.
LEARN MORE