What GOP Candidates on the Debate Bubble Can Do to Make the Cut
Fox News announced this week it would cap the number of candidates allowed at the Republican debates to 10.
By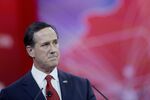 Rick Santorum is unhappy with Fox News' decision to cap its upcoming presidential debate at the top ten in the polls—calling it "arbitrary" on Thursday. He probably doesn't like his odds, and for good reason.
Fox News and Facebook announced Wednesday that because of the large pool of White House prospects, they'll include only those who rank in the top ten in an average of the five most recent national polls in the first sanctioned debate on Aug. 6 in Cleveland, Ohio.
If this debate was held next week, the five polls that would be used to qualify the top ten under Fox's criteria would leave 8 clear candidates or likely candidates who are averaging over 5 percent—Jeb Bush, Scott Walker, Marco Rubio, Rand Paul, Mike Huckabee, Ted Cruz, Ben Carson and Chris Christie. Six or 7 candidates, including Santorum, are averaging around 2 percent of the vote. Those left out are nearly tied, leaving them to fight it out over the next 11 weeks to pull away from the pack and gain a coveted spot on the stage.
So, if you're a candidate who is on the bubble, how can you set the stage to get on stage?
Running national advertisements is one option, but that approach is sure to leave candidates fronting a massive bill that may not even pay off. Candidates would need to spend more money in places with larger population bases, like Florida and Texas, shelling out possibly millions to reach a national audience that may not ever be called for a single national poll. On top of that, in polls whose sample size is as little as 267 people, it only takes about three voters from the electorate to raise a candidate one percentage point. That's a lot of money on a national ad campaign in hopes of getting a nod from six to ten people.
Another, more frugal option is taking the fight to social media. Higher name recognition can translate into higher poll numbers. If you're John Kasich, this could be the difference between standing on the stage and watching from the audience. Highly targeted digital advertising could be another choice.
Considered in those terms, the Fox News debate gives preference to candidates with the most money and the most social media presence. Between now and August, national polls are going to largely measure name recognition, which can be boosted most easily by money, social media power and star power. 
While being excluded from the debate would be a public relations, ego, and momentum blow to any White House prospect, it wouldn't necessarily be the end of the world. A clever campaign could spin the exclusion as an opportunity to get even more publicity. Fox has promised air time of some sort to those who are kept off the stage. And for those who are included in the two hour debate (with or without commercials), 120 minutes divided between three moderators and ten candidates doesn't leave much talk time even for the top ten.