business
Shelby Banking Bill Advances in Face of Democrat Opposition
Silla Brush and Jesse Hamilton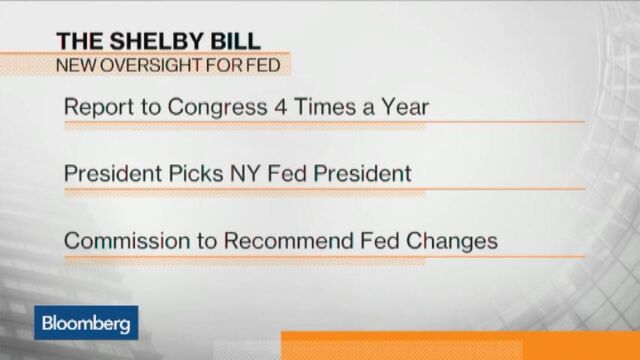 Republicans on the U.S. Senate Banking Committee voted unilaterally to ease regulations for dozens of mid-size lenders and toughen oversight of the Federal Reserve, prompting a clash with Democrats that threatens the legislation.
The banking panel voted 12-10 along party lines on Thursday to advance a bill that could free SunTrust Banks Inc., U.S. Bancorp, PNC Financial Services Group Inc. and other banks from the Dodd-Frank Act's stiff supervision and capital requirements. Under the legislation, the Fed would need to disclose more information to Congress about monetary policy decisions, while the head of the New York Fed would need to be confirmed by the Senate.
"This is round one," Senator Richard Shelby, the Alabama Republican who leads the banking panel, said of his bill's failure to draw Democratic support. "We're open to negotiations," he told reporters after the meeting.
Democrats called the legislation a rollback of Dodd-Frank rules put in place to protect taxpayers after the 2008 financial crisis. Senator Sherrod Brown, the top Democrat on the banking panel, led an unsuccessful effort to counter Shelby's bill with narrower legislation that would ease regulatory burdens for small, community banks.
'Bank Wish List'
"This package is a one-sided wish list," Brown said of the Republicans' legislation, arguing it wasn't written to win bipartisan support or an eventual signature from the president. Its rollback of mortgage regulations "provides all kinds of institutions with legal immunity for the types of mortgages that led to the financial crisis," he said.
After the vote, Ohio's Brown signaled there could be room for compromise. He said he is willing to consider regulatory changes for regional banks, but opposes Republicans' desire to ease rules for lenders with up to $500 billion of assets. Lawmakers should act on legislation aiding small banks before considering ways to alter regulations for regional banks and rein in the Fed, Brown said.
"Instead of an ideological attack on Wall Street reform, and using the small banks to do that, we should do the small bank reforms, the regulatory relief for community banks and credit unions and then move from there to negotiations on all the other things," he told reporters.
Democrat Senators Mark Warner of Virginia, Heidi Heitkamp of North Dakota, Jon Tester of Montana and Joe Donnelly of Indiana, whom Republicans had tried to sway before the vote, opposed the legislation. Warner, who expressed frustration at Republicans' process for drafting the legislation, said he would do everything in his power as a senator to make sure Shelby's version doesn't reach a floor vote.
Long Odds
Senator Elizabeth Warren, a Massachusetts Democrat who is among the loudest critics of big banks on Capitol Hill, said Shelby's bill is good for Wall Street.
"The last thing we should be doing is rolling back the rules and weakening the oversight of some of the biggest banks in the country," Warren said before the committee vote.
Because Republicans need to secure six additional votes to overcome procedural hurdles in the full Senate, the bill faces long odds of winning approval.
(Updates with Shelby quote in third paragraph, Brown comments starting in sixth.)
Before it's here, it's on the Bloomberg Terminal.
LEARN MORE