politics
Robert Gates: Boy Scouts' Ban on Gay Troop Leaders 'Unsustainable'
The former secretary of defense, now president of the organization, told its national meeting that times have changed.
By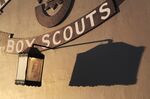 Former U.S. Defense Secretary Robert Gates is done defending the Boy Scouts' ban on gay leaders. 
Now president of the Boy Scouts of America, Gates said Thursday that the organization's position that forbids gay adults from participating had become outdated. 
"We must deal with the world as it is, not as we might wish it to be. The status quo in our movement's membership standards cannot be sustained," Gates told BSA's annual national meeting in Atlanta.
Two years have passed since the Boy Scouts reversed policy and allowed openly gay youths to join. Since then, the drive for  expanded gay rights has only intensified, Gates argued. 
"Dozens of states—from New York to Utah—are passing laws that protect employment rights on the basis of sexual orientation," he said. "Thus, between internal challenges and potential legal conflicts, the Boy Scouts of America finds itself in an unsustainable position."
"Nor can we ignore the social, political and juridical changes taking place in our country—changes taking place at a pace over this past year no one anticipated," Gates said. 
 Gates added that the Boy Scouts can no longer "ignore growing internal challenges to our current membership policy."
American attitudes toward homosexuality have drastically changed over the past few decades. A Gallup poll released Wednesday found that 51 percent of Americans surveyed said they believed that being gay was determined at birth, a new record high. A day earlier, the polling organization found that 60 percent of adults surveyed believed that same-sex marriages should be recognized under the law, another record. 
Despite Gates' recommendation that the Boy Scouts change course and allow openly gay adults to participate in the organization, he said he would not ask the BSA's national board to make a formal policy change at the Atlanta meetings. 
Before it's here, it's on the Bloomberg Terminal.
LEARN MORE