pursuits
Sumner Redstone Sets Up a Legacy of Conflict at Viacom, CBS
Christopher Palmeri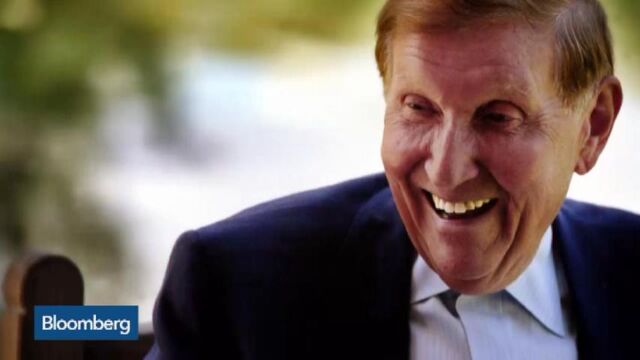 Nothing much happens at CBS Corp. or Viacom Inc. without Sumner Redstone's say-so. The aging media monarch has controlled Viacom for a generation and CBS for 15 years, dismissing CEOs and family members at will along the way.
Now 91 and ailing, Redstone has laid out what he wants to happen to his estimated $5.6 billion fortune, including those iconic media properties, after he dies. A family trust sets out who will pull the strings at CBS, the most-watched U.S. TV network, and Viacom, owner of the Nickelodeon and Comedy Central cable-TV channels.
Yet in settling his affairs, Redstone has created the potential for conflict with the seven trustees who'll oversee his empire, the executives who run CBS and Viacom, and the grandchildren he's made his beneficiaries. CBS's annual meeting today highlights one key question: Who will succeed the absent Redstone as chairman of his most iconic and valuable holding?

It won't be only family members who make that call. Two heirs, Redstone's 61-year-old daughter Shari and her son Tyler Korff, will serve as trustees. That gives the Redstones a numerically smaller say than the outside members, all lawyers with longstanding ties to the aging patriarch.
Four other grandchildren will have to count on Shari Redstone and Korff, a 29-year-old attorney, along with the outside trustees, to look after their interests.
In addition, Redstone designated Viacom's chief executive officer, Philippe Dauman, as a trustee, while leaving CBS Corp. CEO Les Moonves outside the inner circle.
The Sumner M. Redstone National Amusements Inc. trust was created for the benefit of its founder's five grandchildren. It owns 80 percent of National Amusements Inc., the family company that, in turn, holds almost 80 percent of the voting rights in both CBS and Viacom. The trust will decide whether either company is sold, who's on the boards and other matters that come to a shareholder vote.
Pressure Point
One of the earliest decisions is bound to be who replaces Redstone atop the CBS and Viacom boards, where he now serves as executive chairman.
Shari Redstone is vice chairman of both companies and president of National Amusements, roles that seemingly make her a successor to her father.
Yet the contracts for Moonves, 65, and Dauman, 61, stipulate that they can quit and collect severance equaling three times their annual salary and bonus if they aren't made chairman after Sumner leaves the scene.
Both men are among the highest paid in media, with Moonves earning $57.2 million in total compensation last year and Dauman receiving $44.3 million, according to company documents. Those figures also include stock based awards.
The elder Redstone set out to cool months of media speculation when he put out a statement on May 7 confirming control of the two companies would pass to the trust. He also said directors of CBS and Viacom will decide who succeeds him as chairman of those two companies.
The trust is governed by two family members and five outsiders, according to Leah Bishop, an attorney for Sumner Redstone at Loeb & Loeb in Los Angeles. Right now the family members are Sumner Redstone and his ex-wife, Phyllis Redstone. They will be replaced by Shari Redstone and her son upon Sumner Redstone's death.
Shari Redstone declined to comment on her intentions. Korff couldn't be reached. Brent Redstone, Sumner and Phyllis Redstone's other child, settled a legal dispute with his father several years ago and isn't involved in the estate.
Boston Lawyers
In addition to the family members and Dauman, the other members are Boston-area lawyers who have long ties to the Redstones.
Two specialize in estate planning. George S. Abrams, 82, is a director of National Amusements and a member of Viacom's board. David Andelman, 75, is on the boards of National Amusements and CBS.
Leonard Lewin, 69, was the divorce lawyer for Phyllis Redstone. Norman Jacobs, 75, represented Sumner Redstone.
Jacobs declined to comment. The others didn't respond to requests for comment.
Some investors have speculated the Redstone family may have to sell CBS or Viacom shares to pay estate taxes.
That's not true, according to Sumner's attorney Bishop, a gift and estate tax specialist.
"Careful planning has been done so that estate taxes at Mr. Sumner's death will not require a forced sale of assets," Bishop said.
The Grandchildren
A potentially larger question concerns the other grandchildren, who don't have a seat at the table like Shari Redstone and her son.
While the trustees have a fiduciary duty to do what's best for the grandchildren, it isn't clear what would happen if one grandchild split from the others or if the five independent trustees bucked the family's wishes.
The trust agreement may have some mechanism for resolving disputes, according to Gary Borofsky, an estate planning and tax attorney at Weinstock Manion in Los Angeles. That could include requiring unanimous agreement among the trustees for a sale of CBS or Viacom or the requirement that at least one family member approves.
"You have to look at the trust instrument," Borofsky said in an interview said. "Without knowing it's hard to say."
National Amusements stands to receive about $88 million a year in dividends from CBS and Viacom. Redstone's shares in CBS will produce almost $24 million, based on the 15-cent quarterly payment, while his Viacom stock will furnish $64 million, based on 40 cents a quarter.
National Amusements also operates theaters and has debt that is serviced, in part, by those dividends. Shari Redstone owns the other 20 percent of the company.
Before it's here, it's on the Bloomberg Terminal.
LEARN MORE