Hedge Fund Vultures to the Rescue in Puerto Rico
Hedge funds aren't popular, but they're perceived in some circles as the last, best hope for the island
By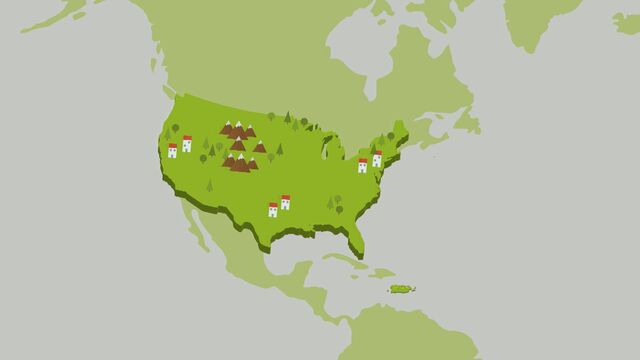 Bring ice skates on your next trip to Puerto Rico. There's a sweet public rink in Aguadilla that claims to be the only place to skate year-round in the Caribbean. "This is a great way to spend some time," one tourism website says, "especially if it is raining, or it is too hot, or you are too sunburned to go to the beach." It takes a lot of energy to maintain a skating rink in the tropics, but that's not a problem: The Puerto Rico Electric Power Authority provides power to Aguadilla and other municipalities in lieu of paying taxes. It bills them if the value of the electricity exceeds what it owes in lieu of taxes. Aguadilla doesn't owe anything to Prepa. But a lot of Puerto Rican towns do owe the utility--and aren't paying. Starved for revenue, Prepa is at risk of default on $9 billion in debt.
Unpaid power bills are only one reason to be pessimistic about the future of Puerto Rico. The self-governing U.S. territory is poorer than the poorest state, Mississippi. It's bleeding population and running budget deficits. Its economy has been shrinking almost continuously since 2006, when a key U.S. tax break called Section 936 expired. Labor force participation is low. The government's general obligation bonds have been downgraded to CCC+ (narrowly beating Prepa's CCC–). And the population remains deeply split over the pivotal question of U.S. statehood, with its nonvoting representative in Congress crusading for it and the governor arguing for the status quo. At $72 billion, the debt of the island and its agencies exceeds that of every state except California and New York. A $630 million debt payment is due July 1. Friends are nowhere in sight. The rectangular island has been abandoned by most of the municipal bond funds that used to eat up its debt. Cut off from access to the debt market by its bad credit ratings, Puerto Rico seems about to founder on the high C's.

But guess who sees potential in Puerto Rico? Los buitres, the vultures: American hedge funds that bought Puerto Rican bonds after the price fell and are agitating for changes to increase the value of their bonds and sell out for a profit. In some countries—Argentina, for example—hedge funds are seen as the worst of the worst. But in Puerto Rico, at least to date, they are perceived in some circles as the last, best hope. The mainlanders are offering their restructuring expertise and potentially billions of dollars on the expectation that a serious investment of time and money will pay off in a healthier Puerto Rico that's able to pay everything it owes (and make them richer).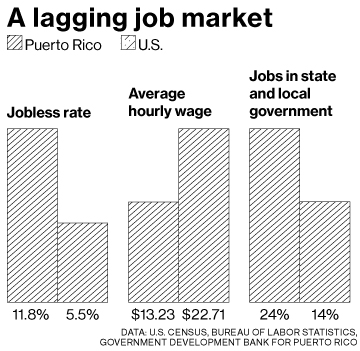 "The ideal is that we don't let it degenerate into the kind of tense relationship where everybody's yelling at each other. We're taking every effort to avoid that," says Stephen Spencer, a managing director in the financial restructuring group of investment bank Houlihan Lokey, which represents both hedge funds and big bond funds that owned Prepa bonds before prices fell. "In any restructuring that works well, you have creditors and debtors rowing in the same direction."
It's not remarkable that creditors would say something like that. What is remarkable is that some Puerto Ricans agree. Ramón Luis Nieves, a member of the Puerto Rican Senate, was interviewed on May 15, the day after a 10-hour meeting of members of the majority Popular Democratic Party in the House and Senate, who reached agreement with Governor Alejandro García Padilla, who is of the same party, on a plan for spending cuts and a sales tax increase to stave off default.
"I have had very positive experiences" talking to the hedge funds, Nieves said. "They're really here. The ordinary sources of financing that the commonwealth had are gone. I hope in the future we can reach agreement with them in a way that they see themselves not as entities that try to make a quick buck from Puerto Rico because we are in distress, but that we can become partners, they can contribute to our economic recovery."
The Puerto Ricans don't have a lot of choice in dance partners. They can't go to the International Monetary Fund, which aids only sovereign nations. They can't make like Greece and threaten to pull out of the common currency or cozy up to the Russians. Unlike Detroit, Puerto Rico isn't eligible to seek protection from creditors in U.S. Bankruptcy Court. Because it uses the dollar, it can't lighten its foreign debts by inflating its currency. And Treasury Secretary Jacob Lew has made clear that the feds won't sweep in with big bucks even though there's nothing that says they couldn't—except Congress. That leaves the hedge funds, along with die-hard bond-fund managers, including Prepa investors OppenheimerFunds and Franklin Resources.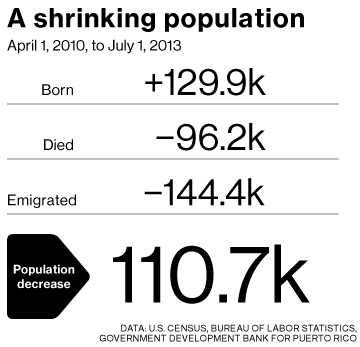 Puerto Ricans have had a complicated relationship with the mainland since 1898, when the U.S. liberated Puerto Rico and Cuba from Spain. The U.S. annexed Puerto Rico but not Cuba. Of the two, Puerto Rico was the good son. Under the Jones Act of 1917, its people became citizens of the U.S. just in time to join the mainland's armed forces and fight in World War I. Puerto Ricans have fought for the U.S. in every war since. Cuba was the prodigal son, especially after 1959, when Fidel and Raúl Castro overthrew the dictator Fulgencio Batista and established a Communist state 90 miles from Key West, Fla., at the height of the Cold War.
Puerto Rico outperformed Cuba economically, making the transition from sugar cane plantations to manufacturing of pharmaceuticals and other high-tech products with the help of federal tax incentives. Puerto Ricans never got all the way up to mainland living standards, though. They were never fully integrated into the U.S. English remains very much a second language. And they never got the vote. A Puerto Rican can be elected president but can't cast a ballot for herself on Election Day.
Now Cuba, the prodigal son, seems to be returning to the fold. The Minnesota Orchestra just played Havana, and Raúl Castro told Pope Francis he might return to Catholicism. As in the Biblical parable, this is causing much rejoicing in Washington and a bit of jealousy among Puerto Ricans, who have been dutiful citizens for a century.
This history casts a shadow over debt negotiations. Understandably touchy about being treated as second-class citizens, a lot of Puerto Ricans aren't happy about the appearance of New York sharpies demanding payment. "The debt is by and large unpayable. This debt has to be renegotiated," Rafael Bernabe, the 2012 gubernatorial candidate of the small Working People's Party, said in an interview. Bernabe, a literature professor at the University of Puerto Rico, has a bachelor's degree in history from Princeton and a master's and doctorate degree in sociology from Binghamton University. "The basic, fundamental problem of the Puerto Rican economy is that you have an economy that generates a significant amount of wealth," he says, "but most of it is taken out of the island."
Last year, Puerto Rico passed a debt-restructuring law that Bernabe liked: It would have made it easier for Prepa and other public corporations to shed debt. Prepa investors worried that Puerto Rico was getting ready to stiff them. Those fears drove Puerto Rico's borrowing costs even higher, essentially cutting off the island's access to fresh credit. This February a federal judge declared the law unconstitutional. An appeal is pending in Boston.
The reason this disagreement hasn't degenerated into greater recrimination is that key people on both sides understand that Puerto Rico is eminently salvageable. The tax burden is fairly light because Puerto Ricans don't pay federal taxes and compliance with domestic taxation is low, meaning there's plenty of room to raise more tax revenue to cover budget deficits and payments on the debt, says Daniel Irvin, chief executive officer of Capital Security Advisors in Boston. "I've seen distressed sovereigns, and this is the most stress for the least fundamental reasons," Charles Blitzer, principal at BlitzerConsulting, told Bloomberg. Blitzer is a former official of the IMF and the World Bank.
What's more, the island economy has a lot of unrealized potential. The World Economic Forum's 2014-15 Global Competitiveness Report ranked it 32nd out of 144 countries and territories, with high scores for business sophistication, innovation, and financial market development. It finished higher than any country in Latin America, edging out Chile. (The U.S. overall finished third.)
Puerto Rico probably put too many of its eggs in the basket of manufacturing, which accounts for almost half of gross domestic product. Tourism, in contrast, is a grossly underexploited opportunity. In addition to movie-set beaches and historic Old San Juan, there are attractions such as El Yunque, the only tropical forest in the National Forest System, and bioluminescent bays, which glow at night. Yet only 9 percent of Puerto Rican employment is in leisure and hospitality, vs. 11 percent for the U.S. as a whole, according to Bureau of Labor Statistics data.
Logistics are another natural for Puerto Rico. It sits on the Mona Passage, which ships traverse en route from the Atlantic Ocean to the Caribbean Sea and the Panama Canal. A deep-water port in Ponce can handle the big ships that will begin moving through the expanded Panama Canal next year; a Singaporean company has been hired to manage it. The aspiration is to make Puerto Rico an international shipping hub. Hedge fund manager John Paulson predicts that Puerto Rico will "develop into the Singapore of the Caribbean."
So there's hope—but only if Puerto Rico can get past its current financial squeeze. Investors are in no mood to buy new bonds without evidence that Puerto Rico is on a path to balancing its budget, which has a $191 million gap for the fiscal year ending June 30. The Government Development Bank for Puerto Rico, which lends to the government as well as the private sector, says it may run out of cash by Sept. 30 unless it can sell $2.9 billion of bonds secured by (unpopular) oil taxes.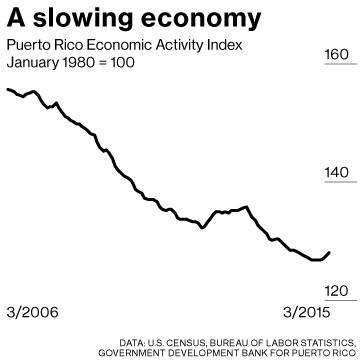 This is where the hedge funds come in. Last year hedge funds, including Paulson's, bought almost all of a $3.5 billion bond issue that has kept Puerto Rico afloat. They've also been active buyers of tax revenue anticipation notes, which are IOUs backed by future tax receipts. An ad hoc committee of Prepa bondholders has offered to provide $2 billion in financing for a new generating plant fueled by natural gas instead of oil based on the logic that it would lower electricity costs on the island while enabling the utility to pay interest and principal on its debt.
The mainlanders' money comes with strings attached. Prepa bondholders want the electric utility to start collecting on municipalities' bills. The power authority's chief restructuring officer has criticized the investors' $2 billion power plant offer, arguing that it doesn't entail any sacrifice by investors and wouldn't comply with environmental rules.
The creditors aren't just tussling with the islanders. They don't even agree with each other in some cases. Hedge funds holding general-obligation and tax revenue bonds want Congress to permit arms of the government such as Prepa to seek protection from creditors in bankruptcy court. Prepa bondholders understandably disagree. They want debtors to follow the procedures specified in the covenants of the bond issues.
Even as Puerto Rico's credit ratings have sunk, its bond prices have recovered from their 2014 lows. Thomas Wagner, co-founder of Knighthead Capital Management, a Prepa bondholder, remains confident that a win-win is possible: "Sometimes hedge funds with their money and their ideas help the public good," he says. "Sometimes we can look out for our interests and improve the state of a public entity." Then again, sometimes they don't. Puerto Ricans have little choice but to bet that this is one of the good times.
—With Michelle Kaske, Taylor Riggs, and Alex Nussbaum

(The original version of this story said that Aguadilla has unpaid electricity bills from the Puerto Rico Electric Power Authority. It has paid its bills.)
Before it's here, it's on the Bloomberg Terminal.
LEARN MORE