The Franchisees Are McGrumpy
In a long slump, McDonald's needs franchisee help. Good luck
By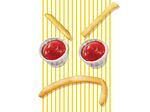 When Steve Easterbrook became chief executive officer of McDonald's in March, there was little doubt that he'd face a tough fight with the likes of Burger King, Shake Shack, and even Chipotle Mexican Grill, in which McDonald's once had a big investment. Yet it's becoming clear he has other foes who may be difficult to quell: his own franchisees.
The fast-food chain is at odds with some of the estimated 3,000 men and women who operate most of its 14,350 restaurants in the U.S. A recent survey by Mark Kalinowski, an analyst at Janney Capital Markets, found that acrimony between the restaurant operators and McDonald's corporate leaders is as high as it's been in the 12 years the firm has polled franchise owners. Stung by falling profits, franchisees grouse that McDonald's headquarters is out of touch with the realities of running restaurants in today's fiercely competitive market. They also accuse the company of ignoring their concerns on everything from bloated menus to ever-more-costly kitchen equipment to wages for counter workers.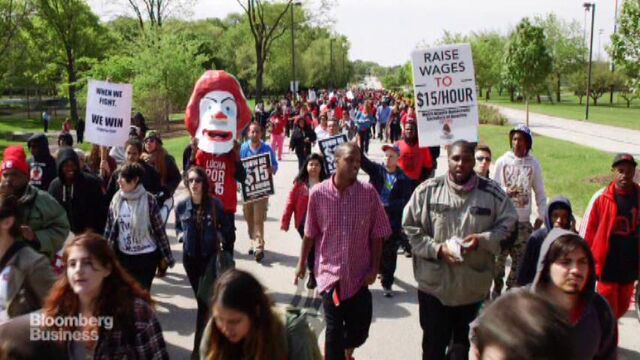 The discord compounds the challenges facing Easterbrook, who has vowed to reverse McDonald's six-quarter U.S. sales slump and transform it into a "modern, progressive" burger chain. Since local franchisees are the ones who actually interact with the customers, analysts say Easterbrook will need to repair relations with operators before he tries a new recipe for the chain. "They don't work for him, and he can't order them around," says Richard Adams, a former franchisee who now advises operators. "For him to get anything done, he needs franchisee cooperation." McDonald's didn't respond to requests for comment for this story.
As part of his turnaround plan, Easterbrook is boosting the share of restaurants operated worldwide by franchisees to 90 percent, from today's 81 percent. That will please Wall Street by reducing corporate investment in the restaurants, but whether it will speed sales growth is uncertain. Franchisees are struggling with slow service times, an issue created in large part by the expansion of McDonald's menu over the years. That's affected the industrial efficiency that marked the chain's early years, and the longer waits have driven away some customers. The chain recently cut seven sandwiches from its menu but still has about 40 more items than it did in 2007.
"If more of the corporate people would take their lunch hour and work the line and in the kitchen, we wouldn't be in the position we're in today," says Don Boodel, who owned restaurants in Colorado for 56 years before recently selling his last two. "They kept repeating themselves in expanding the menu; we knew this was only making the problem worse."
Many franchisees also complain that Easterbrook, after not mentioning his plans for wages at what the company called a Turnaround Summit in March, blindsided them by announcing in April that it would pay about 90,000 workers at 1,400 company-owned stores in the U.S. at least $1 more than the minimum wage in their localities. Almost immediately franchisee Boodel's employees began asking when they could expect a raise, as well. "It was wrong," Boodel says. "They can do what they want with their restaurants, but this was something that should have been discussed openly."
Not all franchisees are so despairing. Terry Smith, who owns three restaurants in southern New Jersey, says he thinks his fellow operators are willing to give Easterbrook a chance to turn McDonald's around. Smith likes what he's heard so far from the new CEO and thinks Easterbrook can gain the trust of operators. "People are happy when sales are good," says Smith. He adds that the tension between franchisees and corporate management during lean times, including the current slump, also spurs dialogue that can move the chain forward. "The answers come from both sides of the fence," he says.
Despite some operators' complaints, McDonald's franchises are still more valuable than those of Burger King and Wendy's based on the prices they sell for, according to consultant Restaurant Research. And McDonald's average sales per U.S. outlet is 66 percent above Wendy's and double Burger King's.
From the beginning, McDonald's has exerted more control than its rivals over franchisees. While Burger King and Wendy's sold rights for entire markets, McDonald's typically doled out franchises one store at a time. On average its owner-operators have four or five restaurants. This helped the chain expand in an orderly fashion, but critics say it also left franchisees with less power to push back against headquarters.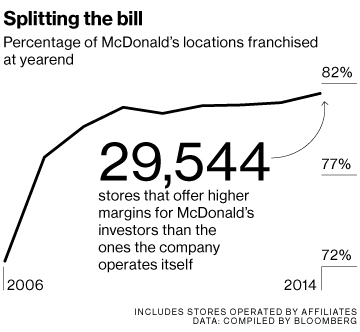 It was individual franchisees who suggested some of McDonald's biggest products—the Big Mac in 1967, for example, and the Egg McMuffin in 1971. But veteran operators say such bottom-up experimentation has ended. The chain increased control as it became massive, and even small tweaks had huge consequences. When McDonald's added apple slices to its menu, for instance, it became the largest U.S. restaurant buyer of the fruit.
Nowadays, most innovation comes from the top, including an attempt at Chipotle-style burger customization called "Create Your Taste," now being tested in a handful of stores. If McDonald's rolls it out nationally, franchisees could be asked to spend more than $100,000 on equipment upgrades such as touchscreens, says Adams.
"Create Your Taste" reminds former franchisee Ed Carter of the chain's push into premium coffee. One day, Carter came to his Serramonte (Calif.) restaurant to find a contractor he'd never seen before taking measurements. Soon after, corporate asked Carter to install a McCafé machine, which cost about $75,000, next to a door in the kitchen. That wasn't going to work because the door was being used to serve overflow drive-through customers.
Though he didn't support the change, Carter found a place for the equipment anyway. Making waves can affect a franchisee's ability to renew a franchise or open new stores, operators say. "You question them at your own risk," says Carter, who sold his last store in March and is now trying to get franchisee-rights legislation passed in California. "You really don't have any power."
The bottom line: Steve Easterbrook must win over McDonald's 3,000 restaurant operators before making big changes at the chain.
Before it's here, it's on the Bloomberg Terminal.
LEARN MORE