Left: © RMN/Hervé Lewandowski/Thierry Le Mage; Right: © 2014 Photo MNP/Scala, Florence
Art
Here's How to Make Millions as an Art Forger
A very old (and very easy?) way to make a fortune
By
Perhaps the biggest surprise in art historian Noah Charney's new book, The Art of Forgery, isn't how easy it is to fake an artwork—it's how little people care when the fraud is uncovered. 
When New York's Metropolitan Museum of Art realized that a renaissance cup by Benvenuto Cellini was in fact the work of a talented (and long-dead) forger, for instance, the response was "bemusement." 
There are other surprises, too, namely that what we think of when we hear the word "forgery"—making direct copies of an artwork—is rarely attempted, simply because it's so easy to prove that the forged work is a fake. (If someone tries to sell you the Mona Lisa, there's a pretty easy way to check if it's real: Just go to the Louvre to see if the original's still there.)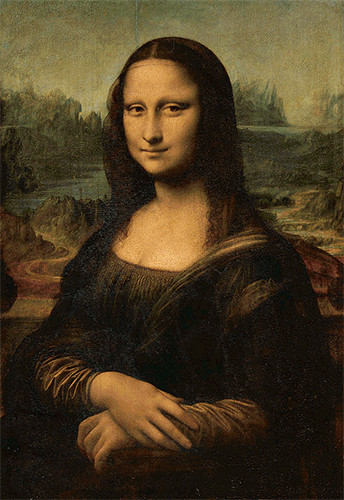 Instead, forgeries can be broken out into four broad categories. Most forged artworks are merely "in the style of" famous (and not so famous) artists. There are forged antiquities, often impossible to prove without scientific examination, which itself can be manipulated. There's the largely unexplored world of forged drawings, whose loose lines and informal production (most were meant as preparatory sketches) are easy to do and hard to discredit. And then, of course, there are those copies. 
Interested in doing it yourself? Here are a few of Charney's more instructional anecdotes:
Case Study: The Twin Gaugins
If they weren't so brazenly illegal, the efforts of New York gallerist-turned-forger Ely Sakhai would be a thought-provoking statement about labor production.
He would buy a legit painting for several hundred thousand dollars and take it to a room—right above his gallery—where a small team of Chinese immigrants would make one or more copies. He'd then sell both the original and the forged works, doing his best to sell the fakes to Asia and the originals in the West, under the apparent (incorrect) assumption that no one would find out. 
Someone did, of course, when both Sotheby's and Christie's each had a painting by Gaugin, Vase de Fleurs, in their May 2000 sales (nobody was the wiser until the catalogues came out). It was traced back to Sakhai, who was arrested and charged with mail and wire fraud. He was finally sentenced in July 2005, at which point he had to pay $12.1 million and spend three and a half years in jail.
Case Study: A Vermeer for a Nazi
It will surprise no one to learn that most artists were terrible record-keepers. Scholars regularly spend decades compiling artist records, and even when these records—known as catalogues raisonnés—are complete, unknown but verified artworks pop up all the time. So if a forger is clever, talented, and uses archival paint and canvases, it can be extremely difficult to prove that a painting or drawing is fake.
In the 1920s, the megalomaniacal opium addict Han van Meegeren made a fortune (approximately $65 million in today's dollars) faking Vermeers and other Dutch masters. After World War II, one of his "Vermeers" was found in the possession of Hermann Goering, and van Meegeren was put on trial as a Nazi collaborator for having given up Dutch cultural property. When he confessed that this was not in fact a Vermeer at all, but rather something he'd painted a few years before at his villa in Provence, no one believed him. He literally had to paint for his life to demonstrate that he could, in fact, make a Vermeer from scratch. (Charney quotes him as saying such things as, "I shall paint you a new Vermeer. I shall paint you a masterpiece!") He died a folk hero—the man who tricked Goering—in 1947. 

Case Study: Forensics Unmask Mr. X Jr. 
More recently, a similar "in the style of" forgery scandal brought down Knoedler, one of the most prestigious galleries in New York. 
A woman named Glafira Rosales showed up at the gallery and persuaded the director, Ann Freedman, that in the 1950s a gallerist named David Herbert had a clandestine homosexual love affair with a man Rosales called "Mr. X Sr." With Herbert's help, Mr. X Sr. accumulated a trove of modern artworks, which he then gave to his son, whom Rosales called Mr. X Jr. and whom she was supposedly representing. The "son" wanted the Knoedler gallery to sell his paintings.

Over the years Freedman consulted experts, whose opinions conflicted, but Rosales's explanation proved convincing enough. She began to sell the artworks. Works thought to be by Jackson Pollock, Mark Rothko, and Robert Motherwell—at least 40 in total—were sold to Knoedler clients for millions of dollars. Only when the Belgian hedge-fund manager Pierre Lagrange reportedly needed to sell his $17 million "Pollock" painting as part of his own divorce proceedings (he left his wife for a male fashion designer) did forensic testing show that the paint was a fake. Lagrange gave Knoedler two days to return his money or be sued. Instead of put up a fight, the gallery shut down. And that's when the lawsuits and criminal investigations began. (A lawyer for Freedman, Luke Nikas, disputes details in Charney's account of events.) 
The above is a painting by the eccentric forger Mark Landis, who donated it to a museum claiming that it was by the little-known artist Charles Courtney Curran. The painting under black light shows no underdrawings, which indicates that it was most likely copied from a finished painting. (Mark Landis, after Charles Courtney Curran, Women Seated on Lawn, c. 2000; Photo © Whitney Curtis)
Over the course of multiple trials, it was determined that every single one of Rosales's works was a fake. She and her husband had enlisted a 76-year-old Chinese immigrant in Queens, Pei-Shen Qian, to paint the artworks that Knoedler then sold, netting the couple $33.2 million. Knoedler made more than $47 million. Qian made only a few thousand dollars for each painting. Today, Rosales is awaiting sentencing and faces up to 99 years in prison, and Qian is thought to be in China. Freedman was recently hired as a consultant to Phillips auction house in New York.

Case Study: A More Modern Kouros
Los Angeles's Getty Museum is the wealthiest museum in the world and has an acquisition budget to match. "The Getty therefore can, and does, acquire new and exciting objects," writes Charney, "but sometimes with an air of new money panic." 
Left: Greek kouros from Volomandra, Archaic era (650-500 bc), 560 bc, © Leemage/Corbis; Right: Getty kouros, dated c. 530 bc, © The J. Paul Getty Museum, Los Angeles
Perhaps it was just that panic that led the museum to purchase what's now known as "The Getty Kouros," a supposedly Archaic Hellenistic statue which would have been the 12th known extant example on the planet. Even at the time the Getty was considering the purchase, the kouros was thought to be a fake. (When the museum finally purchased it in 1985 for between $7 million and $12 million, a Getty art adviser resigned in protest.) Leaving aside stylistic considerations—the braiding of the hair was wrong, the marble was uncharacteristically flawed, and the style of the kouros seems to be a hybrid of multiple centuries—its supposed provenance raised a series of red flags, starting with the fact that it was sold to the museum by Gianfranco Becchina, an accused art smuggler. Then there's the kouros's documentation, which included a 1952 letter written with a post code that didn't exist until 1972 and a 1955 bank account that wasn't actually opened until 1963. 
Still, the Getty forged ahead and bought the kouros, and even today the wall text euphemistically declares "Circa 530 BC or Modern Forgery."
Case Study: Van Dyck Prep School  
Until the 20th century, most drawings were done purely as preparation for paintings, and once those paintings were completed, most of the preparatory drawings were thrown out; the ones that remain are generally loose and sloppy, given that no old master in his right mind would have imagined they'd eventually be sought-after art objects. (Of course, there are exceptions.) 
The paucity of drawings out there means there generally isn't a large body of work to compare a forged drawing to, and the sloppiness of original drawings means they're easy to imitate. Charney sites the work of Eric Hebborn, who studied the work of such masters as Anthony Van Dyke, Frans Hals, and Michelangelo and then created "preparatory" drawings with age-appropriate materials and paper. Hebborn created hundreds if not thousands of these drawings, and while various galleries apparently had their doubts, Hebborn's forgeries came to light only when he published an autobiography, Drawn to Trouble: Confessions of a Master Forger, in 1991. He was never charged.

There are dozens of other examples in Charney's book; the world of forgery, in Charney's telling, is infinitely more colorful than the art world itself. Broken into sections describing the motivation of various forgers—sections include Genius, Pride, Revenge, and Fame—Charney truly hits his stride when describing the forgers, rather than the forgeries—this isn't a book that spends too much time on the actual merits of the fake paintings. 
The Art of Forgery begins to falter only at the very end, when Charney swipes at fine wine fraud and the booming industry of fake ceramics in China, both of which are infinitely more complicated and colorful than the few paragraphs Charney allots to the respective fields.
It's striking that the most vivid, not to mention destructive, example in The Art of Forgery—the Knoedler scandal—is also the most recent and reflects, perhaps, the growing value of the art market. As recently as the 1990s the notion that a painting could sell for more than $100 million was preposterous, and yet, 25 years later, a Picasso just sold at Christie's for $179 million. As forgery's potential rewards increase exponentially, so do its repercussions. Still, The Art of Forgery leaves no doubt that the field continues to grow—the only question is how many forgeries have yet to be discovered.
The Art of Forgery: The Minds, Motives and Methods of Master Forgers, by Noah Charney, is out now from Phaidon. $35
(Corrects dates and identity of a painting in the twelfth and thirteenth paragraphs, as well as authentication efforts by Freedman and provenance details.)
(Corrects dates and identity of painting in the twelfth and thirteenth paragraphs, as well as authentication efforts.)
Before it's here, it's on the Bloomberg Terminal.
LEARN MORE