Forget Bond Rout, It's the Current Calm That's Killing: Ballard
by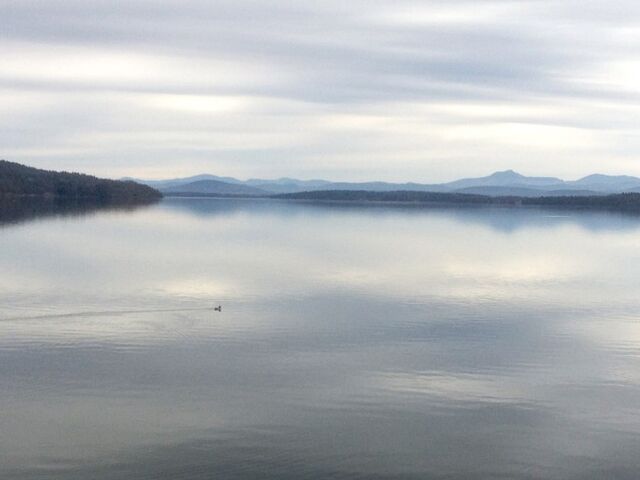 Rather than the recent selloff in government bonds, it's the emerging recovery that's stifling Europe's credit markets. With no consensus on what next to position for, uncertainty is paralyzing sentiment, writes Bloomberg strategist Simon Ballard.
The recent selloff in the rates market, which drove up the 10Y bund yield from 0.07% on April 20th to a high of 0.72% on May 13th, before retreating to the current 0.60% level, has hurt many longer-dated credit portfolios. The front end of euro government curve is still in negative-yield territory though, which is helping to underpin demand for short-dated spread product. Longer-dated risk assets, however, have been hurt by the EGB slump. Moreover, liquidity conditions have deteriorated as the outlook for the future direction of the rates and credit markets remains highly unclear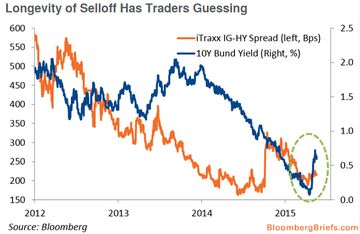 Portfolios that are weighted to underlying benchmark indexes may show less of a negative relative performance in current context, whereas flexible/unconstrained funds and mandates are, by definition, more exposed to market fluctuations. Indeed, long-dated corporate hybrids and high-beta investment grade debt sold off with rates but neither sector has recovered to any meaningful degree during the bund rebound to the current yield level of ~0.6%. It would appear as though investors are clearly hoping for better visibility on the outlook for market direction as well as a clearer indication of upcoming new issue supply volumes before dipping their toe back in the market.
In this respect, the broader problem may lie in the fact that current consensus seems to be that there is no consensus. On the one hand, strong U.S. economic data suggests U.S. Treasury yields may need to rise further in the coming months, which could result in European government bond yields also being dragged higher by association. We are aware that if the EGB selloff should intensify, the impact on credit markets could be very negative. Anecdotal evidence suggests that a 10yr bund yield above the recent 0.72% high could trigger corporate bond liquidations and outflows from the asset class.
On the other hand though, negative developments such as a payment default (or worse) by Greece could see bonds rally from current levels. While there seems to be little concern that yields will re-test the recent lows, they could nonetheless drop sharply lower again, to sub-0.5% on the back of heightened Grexit fears.
Any resultant negative price action and spread performance in the corporate debt market could then be further aggravated by the fact that the regulatory environment means investment banks are today less able to absorb any liquidity in times of risk aversion/reduction they might have been previously.
One consequence of this lack of clear direction for the rates market is that near-term new issue corporate bond activity could be curtailed as issuers consider a delay to funding plans in anticipation of more favourable funding levels materialising in the coming weeks/months. The ECB QE asset purchase program should continue to anchor yield and support risk appetite - demand for correctly-priced, fundamentally-sound, short-dated assets remain healthy - but as discussed above the outlook for funding levels is unclear. Certainly, bund yields seem unlikely to retest the recent lows.
Therefore, with risk appetite clearly susceptible to the myriad sources of macro headline risk there is a belief that corporate issuers should 'make hay while the sun shines' instead of waiting in the hope that rates to fall back toward their recent lows and they save a few basis points in their funding cost. Funding levels are still attractive on an historic basis and as ECB Executive Board member Benoit Coeuré reminded us this week, any summer 'lull' could soon restrict funding program opportunities for corporate treasurers and central banks alike.
NOTE: Simon Ballard is a strategist who writes for Bloomberg. The observations he makes are his own.
Before it's here, it's on the Bloomberg Terminal.
LEARN MORE