Ecclestone Fights $1.6 Billion Bill After Tax Deal Torn Up
Kit Chellel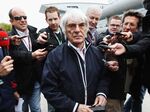 Bernie Ecclestone, chief executive officer of the Formula One racing series, faces a 1 billion-pound bill ($1.6 billion) after British tax collectors decided to tear up a 2008 settlement over a family trust.
The 84-year-old is fighting Her Majesty's Revenue and Customs over the tax status of the family trust at the center of a bribery probe that threatened his role as head of F1.
"The tax and interest demanded" from Ecclestone "as a result of the decision is over 1 billion pounds," London judge Kenneth Parker said Thursday. He said Ecclestone's request for judicial review should be put on hold until separate challenges are heard.
Today's hearing was the start of what may be a lengthly legal battle over the Bambino Holdings Ltd. fund, which Ecclestone says is for the benefit of his ex-wife and daughters and is nothing to do with him. HMRC wrote to Ecclestone in December saying he had withheld information that made a 2008 agreement over the trust's status invalid, Judge Parker said.
"From HMRC's perspective the settlement is void," the tax agency's lawyer Tom Weisselberg told the judge.
Ecclestone "merely wants HMRC to act in accordance with its obligations and the law," his spokesman Richard Oldworth said. He is pursuing "other legal avenues" to ensure the agency is held to the 2008 settlement, Oldworth said.
Tax Liability
While Ecclestone has previously said he was being questioned by the U.K. tax agency, the extent of his liability wasn't clear until Thursday. "I've never, ever, ever had anything to do with the trust," Ecclestone said when reached by phone.
Read more: Ecclestone Will Pay $100 Million to End Corruption Case (August 2014)
Bambino, established in 1997 after Ecclestone had heart-bypass surgery, holds a stake of almost 9 percent in Formula One.
HMRC began investigating Bambino in 1999 and settled with Ecclestone and his ex-wife Slavica in 2008. Spokesmen for the tax agency didn't immediately respond to a request for comment.
Judge Parker said HMRC re-opened its investigation of Bambino when it was revealed in a German trial that the trust had made a payment to banker Gerhard Gribkowsky, who Ecclestone claimed had threatened to report him to British tax collectors. Ecclestone agreed to pay $100 million last year to settle a German corruption case over the matter -- allowing him to leave court without a criminal record.
Munich prosecutors had argued he paid the BayernLB banker $44 million to ensure he wouldn't oppose the sale of the lender's Formula One stake to CVC Capital Partners Ltd.
Ecclestone, who has run Formula One's commercial unit since 1995, has consistently maintained that he was the victim of a shakedown by Gribkowsky.