What If They Had A Straw Poll and Nobody Came?
Can The Donald keep a venerable Iowa tradition from withering away?
By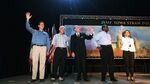 Donald Trump, who told the Des Moines Register Tuesday he will take part in the Iowa Straw Poll if he decides to seek the Republican presidential nomination, might not have much company in the once-command-performance event.