What If They Had A Straw Poll and Nobody Came?
Can The Donald keep a venerable Iowa tradition from withering away?
By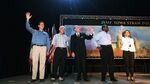 Donald Trump, who told the Des Moines Register Tuesday he will take part in the Iowa Straw Poll if he decides to seek the Republican presidential nomination, might not have much company in the once-command-performance event. 
So far, retired neurosurgeon Ben Carson is the only one of the declared candidates who has said he'll compete in the Aug. 8 event, according to U.S. News & World Report, as Republicans increasingly question the costs and benefits of the informal activist survey.

A colorful tradition, the straw poll was once thought to preview Iowa Republicans' leanings six months before the the state casts the first ballots of the presidential election year. The event has become expensive for candidates, though, while providing little in return. The two most recent winners, Michele Bachmann in 2012 and Mitt Romney in 2008 came up short on caucus night. Bachmann tanked after her straw poll win, coming in sixth in the caucuses with just five percent of the votes.
"We all know that there isn't a great deal of relevancy in the poll," Iowa Governor Terry Branstad, a Republican, said Saturday, according to the Register. "It is just a particular event that is not scientific that is taken at any point in time in the month of August." Branstad was among Republicans pushing for an end to the straw poll, but he got outvoted earlier this year.
Former Florida Governor Jeb Bush, who has not yet formally entered the race, said through a spokesman last week that he would skip the event for the annual conference hosted by the conservative political website RedState. This year the event is in Atlanta from Aug. 6 through Aug. 9, creating potential conflicts for many candidates. In addition to Bush, five other candidates or likely candidates—Scott Walker, Rick Perry, Bobby Jindal, Carly Fiorina, and Marco Rubio—will go to the Atlanta event, according to RedState. Many campaigns have said they're still evaluating their options. 
Republican campaign guru Karl Rove predicted, in the Wall Street Journal in January, that state party officials would nix the whole thing since they are aware "that a 2015 Ames Straw Poll would undermine the credibility of the 2016 Iowa caucus."
That didn't happen, and the Iowa Republican Party, which hosts the straw poll, insists more commitments are coming.
We hope Governor Bush rethinks his decision and realizes that grassroots will only grow in Iowa if he waters them. (1/3)

— Jeff Kaufmann (@kaufmannGOP) May 12, 2015
"Several campaigns and candidates have told us that they intend to be there," said Charlie Szold, a spokesman for Party. "We're confident that we're going to hold a very strong straw poll."
Jeff Kaufmann, the state party's chair, said in a series of tweets last week that Bush should reconsider his decision to go to Atlanta because heading to Iowa would help him build grassroots support.
"We don't buy this excuse and neither will Iowans," he tweeted.