The iTunes of Art
A tech company tries to mainstream digital decor
By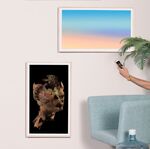 Office art—actual art—is annoying to find, frame, and protect. It's only become worse as more artists create videos, GIFs, and other ephemeral digital media. Depict, a platform born out of the Massachusetts Institute of Technology's MBA program, wants to make that process less opaque.
You start by buying a 50-inch maple frame; technically, it's a high-quality matte screen that pivots vertically or horizontally and turns on with one discreet button. To fill it, you download Depict's iPhone app and browse hundreds of options, starting at $8, to display indefinitely. It's curated by Amanda Schneider, previously of the Brooklyn Museum and New York's Lehmann Maupin gallery. As with physical pieces, availability is limited; most have 250 or fewer editions. Noncommittal clients can get monthly subscriptions of 10 or so works for $15. (The frame costs $1,800, though, so the concept is aimed at serious collectors and corporate accounts.) "Depict broadens the industry beyond the gallery," says artist Chris Doyle, who makes neon-tinged animations. Based on that idea, the company raised $2.5 million from venture capitalists led by Bruce Gibney, an early Facebook investor.
If Depict takes off, fine art could start selling the way movies or music do. "There were MP3s before the iPod, but none of us remember having them or what they were called," says Kim Gordon, a co-founder, who grew up going to auctions with her mom. Digital art faces many of the same copyright challenges as songs, and Gordon says preventing piracy has been the biggest hurdle. For now, each piece is encrypted with a watermark-like code that stops it from landing for free online or elsewhere. That's not to say you can't offload works you're not feeling anymore: Gordon is also building a market where customers can sell their noncanvases at a higher resale rate.
Before it's here, it's on the Bloomberg Terminal.
LEARN MORE