The Fear Factor Gone, Nadal Tries to Win Again at Roland Garros
By
Nine-time champ goes to Paris without a clay title in Europe

Spaniard has dropped to a decade-low No. 7 in the rankings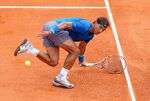 It's rare at this point in Rafael Nadal's career for the nine-time French Open champion to achieve a first, and this is one he's working to avoid.
After a season of doubt, losing to opponents he'd normally swat aside and changing his racket, the best clay-court player of his generation heads to Paris without a single title on the slow surface in Europe. Even with five losses on clay this season -- as many as in the previous two years combined -- the 28-year-old last week said he felt mentally stronger now than at the start of the year.
"I didn't play with nerves today, I didn't play with nerves the most of the time for the last three weeks, and that's the most important thing for me, if I am able to control that," the left-hander told reporters in Rome last week, after he blew four set points in the quarterfinals against Switzerland's Stan Wawrinka.
Although Nadal's lone defeat at Roland Garros dates back to 2009, the fear factor may be gone in the Paris locker room, said Jim Courier, a two-time French Open champion.
"Nadal is less vulnerable in Paris, given the best-of-five set format which allows him time to problem solve, than he has been elsewhere, but there are now guys in the locker room who see him as an opportunity rather than an immovable obstacle," said Courier, who will be working for U.K. broadcaster ITV during Roland Garros.
Since taking his ninth French Open championship on a sweltering hot day in June in a tense four-set match against top-ranked Novak Djokovic, Nadal has struggled. He missed the second part of 2014 with a wrist injury, followed by surgery on his appendix. Since Roland Garros, he's won one title, on the clay of Buenos Aires in March.
"He's become a little bit fearful," former British No. 1 Annabel Croft said in an interview. "It's difficult watching him at the moment. He's always been so incredible at playing in the moment. Now it seems like he's thinking about things a lot more and he's questioning himself. He doesn't go for it when it really matters," said Croft, a former junior Wimbledon champion who is now a broadcaster for Eurosport.
On the hard courts of Miami in March, Nadal admitted to lacking confidence when he was defeated by Fernando Verdasco, a fellow Spaniard he'd lost to only once before in 14 meetings.
"I am still playing with too much nerves for a lot of moments, important moments, still a little anxious on those moments," Nadal, a 14-time major champion, said.
After a decade as the favorite for the Roland Garros title, Nadal has fallen out of favor with oddsmakers. Serbia's Djokovic is 4-5 at U.K. bookmaker William Hill Plc to win his first title in Paris. That means a successful $5 bet would return $4 plus the original stake. Nadal is at 11-4 while Britain's Andy Murray is at 8-1 after he won two clay events this season.
On the clay courts of Monte Carlo in April, Nadal announced he'd swapped the Babolat racket frame he'd used since he was 11 for a newer model with a wider string pattern that gave him more power and topspin.
The switch surprised Tim Henman, a former world No. 4 from Britain.
"It's amazing he wants more spin considering his technique and how much topspin he uses already," Henman said in an interview at the time. "It'll be interesting to see whether that has an impact or whether he needed a bit of a change psychologically."
The experiment lasted two tournaments.
After losing to Djokovic in the semifinals in Monte Carlo, Nadal was beaten for the second time on clay this season by Italy's Fabio Fognini in the last sixteen in Barcelona. After he switched back to his old racket, Nadal had a good week in Madrid, only to suffer his first-ever loss on clay to Murray in the finals following an error-strewn performance. Last week, Nadal's preparation for Roland Garros ended in the quarterfinals of Rome, where he's won seven times.

His title drought on clay in Europe means he's slumped to seventh on the men's tennis rankings. That's his lowest in a decade, and means he could play any of the top four seeds from the quarterfinals. The draw will take place on May 22 at Roland Garros.

"This could be a real crossroads tournament for Nadal," Patrick McEnroe, an analyst for ESPN and a former top-30 player, said on an ESPN conference call this week.

"He's always depended on the clay-court season to get that confidence back," 18-time major singles champion Chris Evert said on the same call. "If you take away the clay-court season for him confidence-wise, I think it's just going to be that much tougher for him to be grinding it out on the hard courts. It will affect him."


His main rivals don't rule out a turnaround.


"He's not winning matches, but this is the surface that always allowed him to regain that confidence," said Djokovic, who has been stopped by Nadal at Roland Garros six times, including in two finals. "You can always expect him to play his best in Paris."