Thai Banks' Unproductive Capital Growth Clouds Earnings Outlook
Anuchit Nguyen and Lee Miller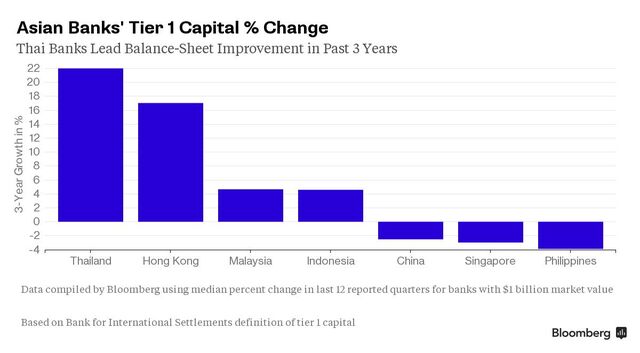 Thailand's banks are strengthening their balance sheets the most in Asia as they pare back lending, threatening earnings growth.
Loan growth at local banks in Southeast Asia's second largest economy more than halved last year even as Siam Commercial Bank Pcl, Kasikornbank Pcl and Bangkok Bank Pcl posted record profits. As the attached chart shows, Thai banks' tier 1 capital rose 22 percent in three years through March 31, beating peers in Hong Kong, Malaysia and Indonesia. The gauge of equity capital fell in China, Singapore and the Philippines.
Banks' reluctance to step up lending increases the challenge for Prime Minister Prayuth Chan-Ocha, who seized power almost exactly 12 months ago in a military coup and faces a worsening economic outlook. Shares of Siam Commercial Bank, Bangkok Bank and Kasikornbank, the largest by market value, have declined more than 6 percent this year, compared with a 1.5 percent gain by the SET Index.
"We are less upbeat about bank shares now because the economy appears to be slowing down," Kasem Prunratanamala, head of research at CIMB Securities (Thailand) Co. in Bangkok, said by phone. "This should increase bad debt among most banks and prompt them to be more cautious toward lending. The period of spectacular earnings growth is probably in the past."
The economy grew at its slowest pace in three years in 2014, while the government on April 29 cut its economic growth forecast for 2015 to 3.7 percent from its previous estimate of 3.9 percent, citing a slump in exports and domestic consumption.
Credit Growth
The median of tier 1 capital for Thai banks with a market capitalization of at least $1 billion increased to 12.6 percent at the end of March, from 10.2 percent three years earlier, the biggest improvement in Asia, according to data compiled by Bloomberg. The calculations ignore any differences in the way capital is computed in different countries.
Commercial banks' loan growth slowed to 5 percent in 2014, from 11 percent in 2013 and 13.7 percent in 2012, according to data from Bank of Thailand. Credit grew 4.3 percent in the first quarter from a year earlier.
Kasikornbank will reduce its lending rates by as much as 0.25 percentage points from Thursday, becoming the first major Thai lender to lower borrowing costs since the Bank of Thailand cut its policy rate in March, Banthoon Lamsam, the lender's chairman, told reporters on Wednesday. Banthoon said that while the lower rate will "definitely hurt earnings," the bank needs to consider its social responsibility.
Higher capital offers lenders protection during periods of adversity, when bad loans or losses mount. It shows banks have "learned their lessons" from the Asian financial crisis in 1997, according to Thananchai Jittanoon, an analyst at UOB Kay Hian Securities (Thailand) Pcl.
The debt held by Thailand's private sector is "substantially higher" than other countries that are also rated BBB at Fitch Ratings, and also more than the median level of debt in countries with a better rating, the credit ratings company said on May 6. The high indebtedness of Thai households will probably drag on their consumption, Fitch said.
Before it's here, it's on the Bloomberg Terminal.
LEARN MORE