Spotify Takes on Apple and YouTube: 5 Things to Know About the New Streaming War
Will it be profitable for Spotify to become more than a place to listen to songs?
By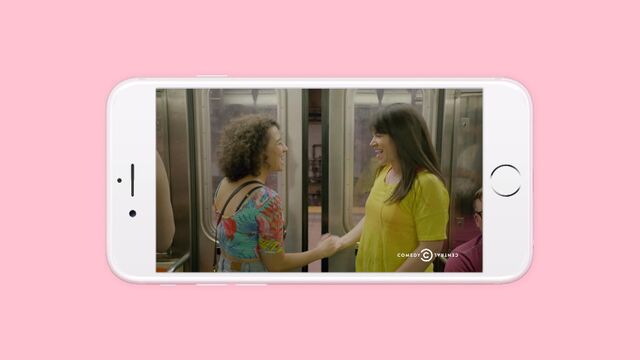 Spotify just laid out its plans to be more than a streaming music service, moving to add videos and podcasts in a new service that will now be available in the U.S., U.K., Germany, and Sweden. The changes chart a path that puts Spotify into direct competition with YouTube at a time when Apple is planning to relaunch its own streaming service. Here are the five most important takeaways from Wednesday's Spotify event:
1. There's Now Video on Spotify: Most of the speculation in advance of Spotify's announcement revolved around video, and the company touted a wide roster of content partners that include Comedy Central, Vice News, NBC, ABC, ESPN, and MTV. Spotify isn't the first streaming subscription service to include videos—Tidal and Xbox Music have libraries of music-related video content—but its service will stretch further into comedy, news, and other non-musical areas. The focus is on short clips; Spotify isn't saying its subscriptions will make it easier for you to cancel your cable package. 
Digital video is a much bigger business than streaming music. Subscription revenue from audio service will top $5 billion in 2020, according to Generator Research, and by that date 100 million users will be paying for streaming music. This year, however, advertisers are already set to spend $7.8 billion on digital video, according to market research firm EMarketer. Even though the potential for lucrative ads is clearly part of the reason for Spotify's video shift, the company didn't make it clear how advertising would fit into its new service. Spotify Chief Executive Officer Daniel Ek promised at the launch event in New York on Wednesday that the new types of content would appeal to marketers, and the few videos already on the service do carry ads. The trouble is that most digital video service with subscription fees charge customers usually promise users a virtually ad-free experience.
2. Spotify Wants to Be the Spotify of Podcasts: By adding video, Spotify is asking users to interact with its service in a new way: Stare at the app on your phones; don't just press play and stick it back in your pocket. Podcasts are an easier connection. While the podcasting industry can hardly match the financial heft of online video, it is having a bit of a moment. Spotify is launching with a number of high-profile partners in podcasting and radio. Slate, Radiolab, and American Public Media have all signed on. Spotify will also offer some original programming in both video and audio, including radio shows hosted by the rap group Odd Future, a video series showing a new dance move each day, and a podcast about new music.
3. Another Way to Listen to Spotify Music: Spotify is taking a cue from Songza, an online radio startup acquired by Google last June, and will offer playlists that correspond to specific moods or activities (such as "chill" or "travel"). The company also announced a new feature that will use the sensors in a user's phone to determine their pace when they're out on a jog and then play music with beats that complement the workout. It is working with Nike to allow people to use the running feature through the shoe company's mobile apps. Runkeeper, another popular workout app, will also get Spotify integration.
4. An Expanded Mission for a Streaming Music Stalwart: Ek said that Spotify already brings in about half the total revenue for the entire music streaming business. But that hasn't brought it close to profitability. As it stands, there isn't an existing business model to look toward when it comes to a stand-alone streaming music enterprise. Expansion beyond music was probably inevitable. By adding other forms of content, Ek argued that Spotify will be able to keep people engaged with its service for longer—and he even predicted that his users will end up listening to more music.
But there's not a straight line from more streams to better economics for Spotify, especially considering that it pays royalties on a per-stream basis. Nor is it clear how adding video and podcasts that are largely available free elsewhere will drive significantly more people to pay for the $10 monthly service instead of the free tier. "I don't see this as something that will magically explode the number of subscribers they get," says Paul Verna, an analyst at EMarketer. It could, however, make users think harder before defecting to a competing service. 
Increasingly, Spotify will be facing competition from companies that aren't just offering music. Amazon has a streaming music service bundled into its Prime program, which also offers free shipping on physical goods and a library of streaming movies and TV shows. YouTube's Music Key is set up to be a Spotify competitor, and the Google-owned service is also working on a subscription service offering a way around pre-roll ads on its videos. But one company in particular looms largest. 
5. Get Ready for New Streaming War: The timing of Spotify's announcement isn't an accident. Next month Apple is expected to unveil its own streaming service built on its $3 billion acquisition of Beats. Sure, Spotify faces plenty of competitors already, but it hasn't faced a serious rival since it broke away from the streaming music pack several years ago. 
Apple is hardly guaranteed success. It launched a music-based streaming service, Ping, which failed. Then it tried a Pandora competitor, iTunes Radio, which has been underwhelming. Nor is it clear how Apple can fundamentally improve on music subscription services that are a pretty good deal for serious music fans. "Subscription music is a good category. There really isn't a problem here for Apple to fix," says Andrew Sheehy of Generator. "The only actual advantage that Apple has is the install base and its market power." 
Then again, those are big advantages. Ek told me during an interview last year that he was concerned that Apple might abuse its market power, and regulators have been asking recently whether Apple could engage in anticompetitive behavior in the music market. Because Apple takes a 30 percent commission of revenue from apps downloaded onto its devices, it will make much better margins when it offers a competing service at a similar price.
And that's not to mention Apple's ability to promote its own apps while downplaying others. Spotify happens to be one of the most popular apps in Apple's app store—yet Apple hasn't bothered to mention the update to Spotify on the front page of iTunes.