Poll: Republican Voters Are Pretty Happy With Their Massive 2016 Field
More than half of Republican voters have a positive view of the field, according to a new Pew poll.
By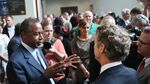 When it comes to their party's fast-growing presidential field, Republican voters like what they see. 
A new Pew Research Center survey found that 57 percent of Republican and Republican-leaning voters polled have a positive impression of their candidates. Specifically, 11 percent said think the candidates running for the GOP nomination are "excellent," and another 46 percent said the candidates are "good." (Another 32 percent said the candidates are only "fair" and 8 percent said they were "poor.") 
That's a less bleak picture than the 2012 election, when another bloated field of Republicans sought to challenge President Barack Obama. Pew found in May 2011 that only 44 percent of Republican and Republican-leaning voters had a positive view of their candidates. Democratic voters were similar unimpressed with their candidates in 2004, when they also faced a two-term incumbent. Only 44 percent of Democrats and Democratic-leaning voters approved of the party's field in the fall of 2003. 
The poll comes as the Republican National Committee debates how to manage the nearly two dozen official and potential candidates for the GOP nomination. Last week, Steve Duprey, the chair of the RNC's debate committee, said there was a "consensus" to limit the number of people on stage to nine to 12. But on Monday, the RNC's chief strategist, Sean Spicer, told reporters there is no cap. If that's the case, the debates may have to take place in heats, or on a very large stage. 
Of the candidates Pew did include in its poll, Marco Rubio, Rand Paul, Mike Huckabee and Jeb Bush all have favorability ratings above 50 percent. Bush, who has been targeted by conservatives for his stances on immigration and the Common Core education standards, has the highest unfavorability rating among conservatives (37 percent) and moderates (34 percent). 

On the left, Hillary Clinton is still the overwhelming favorite—her favorability is at 77 percent with Democrats and Democratic leaning voters according to the poll, down from a high of 81 percent in August 2007. And while Democrats and Democratic leaning voter were more excited about the 2008 election field (when 64 percent of those polled said the field was excellent or good) 54 percent of those polled told Pew that they had a positive view of Clinton and her challengers.