politics
Mitch McConnell's 2014 Challenger Fights Kentucky Governor Primary to a Standstill
Matt Bevin returns, as the early leader in a messy Republican primary.
By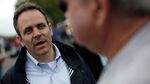 For an hour on Tuesday night, Matt Bevin, a Kentucky businessman who tried and failed to carry the Tea Party's banner in 2014, looked like the Republican Party's 2015 nominee for governor. Party leaders were already congratulating him; networks were calling the race. Then, suddenly ballots from western Kentucky broke for Agriculture Commissioner James Comer—who appeared to have turned a scandal over an old girlfriend's charge of abuse into a scandal over dirty campaigning. The night ended with Bevin up by fewer than 500 votes out of more than 214,000 cast.
The tumult, which is likely to lead to a recount, is no help to the state's powerful Republicans. Senate Majority Leader Mitch McConnell defeated Bevin in a 2014 primary. Senator Rand Paul, who announced his presidential bid in the same hotel where Bevin hoped to be accepting the nomination, is hoping for a Republican governor to take office in Frankfort and diffuse questions about whether Paul can seek two offices at once.
Bevin was not supposed to win the primary. Kentucky Republicans, who have held the governor's office for only four of the last 40 years, had hoped that Comer would consolidate support and keep someone like Bevin out of the race. Businessman Hal Heiner, who'd narrowly lost a race for mayor of Democratic Louisville, spent early and heavily to build up his name ID, forcing Comer supporters to burn up cash.
That created an opening for Bevin. He had challenged McConnell in the 2014 primary, attempting to continue the momentum that had defeated Republican senators like Indiana's Richard Lugar and Utah's Bob Bennett over their support for the 2008 bank bailout and their work in Washington.
He failed, after a bruising campaign that highlighted everything from how Bevin's own investment fund had praised the bailouts to how Bevin had apparently declared solidarity with cock-fighting fans. Paul had endorsed McConnell, and lent his old aide Jesse Benton as campaign manager. Bevin occasionally came off as shell-shocked as a Tea Party hero and his allies tore him down. 
"I think the world of Rand," Bevin told Glenn Beck in 2014. "I voted for Rand in the primary. I voted for him in the general. I personally maxed out to him."
A few months later, Bevin won just 36 percent of the vote. Yet he never stopped campaigning or meeting with Republican activists. His insight was that a similar level of support—and even fewer votes—could get him through a crowded off-year primary. Bevin announced his bid just five months before the primary, picking a Bowling Green Tea Party leader as his running mate, and emphasizing his service in the military.
McConnell's circle watched with horror as Bevin rose in the polls. "It's abundantly clear that his guiding light is to embrace whatever gets himself a little further down the road," McConnell advisor Josh Holmes told reporter Joe Gerth this month. At the same time, Comer was battling reports that he'd abused his college girlfriend—reports that he blamed on a flailing Heiner.
Neither a Bevin victory nor a nasty recount would necessarily hand November's election to the Democrats. The incumbent party, as expected, nominated Attorney General Jack Conway. In an average of recent polls, the Democrat only led Bevin by 6 points, and fought Comer to a tie. But Conway, the loser of a bitter 2010 race against Paul, was seen to have the best chance of victory if Bevin won the primary. Paul was hoping to run for president and Senate at the same time. A Governor Conway and Democratic House could stymie that. This was one reason why Paul congratulated Bevin even before the count was final in a tweet that was later deleted.
Either Republican, if he won in November, would put the future of Kentucky's health reforms in doubt. Bevin told Republicans that he'd dismantle the state's popular health insurance exchange, KYNect, as governor. Comer merely said that he'd put "all options on the table" to reform the exchange, created by the Affordable Care Act.
It was a better and earlier night for Republicans in Jacksonville, where former Republican Party of Florida chairman Lenny Curry defeated Alvin Brown, the city's incumbent Democratic mayor. Republicans hoped that the race would be a 2016 bellwether, a reversal of the Democratic gains among non-white voters that had turned Florida—and Jacksonville's Duval County—increasingly purple.
Before it's here, it's on the Bloomberg Terminal.
LEARN MORE