Gooch Trashed BGC Before Selling to Lutnick's Firm Anyway
Zeke Faux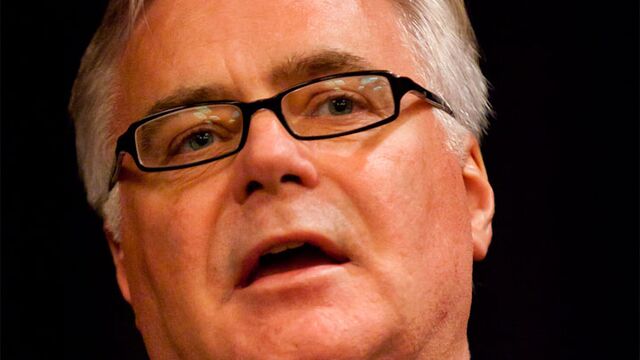 When Michael "Mickey" Gooch relented in February to a hostile takeover, selling GFI Group Inc. to Howard Lutnick's BGC Partners Inc., he had nothing but praise for his new employer. Documents in a shareholder lawsuit show Gooch had a different view of his rival two months earlier.
"They have committed to committing crimes, money laundering," Gooch said in a Dec. 11 deposition, explaining why he had spurned BGC's overtures, according to a transcript filed last week at Manhattan federal court. "Their relationship with their employees is outrageous. They are in constant litigation with their own employees."
He continued: "All of the highest producing brokers at my company would never work for BGC under any circumstances, and would not be interested in their stock."
Gooch had fielded the questions at a law firm in Boca Raton, Florida, in the midst of his months-long campaign to avoid selling the firm he founded to BGC, part-owned by Cantor Fitzgerald LP. "I obviously had a serious case of deal fever," Gooch said in a statement sent Tuesday by BGC. "Now that I have more information, I am very comfortable with BGC. As you know, I expect to invest all of my deal proceeds in BGC stock."
At the time of the deposition, he was pushing an alternative deal with exchange operator CME Group Inc., which planned to keep some of GFI's software businesses and sell the main brokerage unit back to him. A GFI shareholder seeking to represent others in a class action sued, claiming Gooch breached his fiduciary duty by favoring the CME deal. As part of the sale to BGC, Gooch agreed to work for his former adversary until 2018, a regulatory filing shows.
'Factually Inaccurate'
Karen Laureano-Rikardsen, a spokeswoman for BGC, said the New York-based firm had no additional comment on the deposition's transcript.
Tariq Mundiya, Gooch's attorney at Willkie Farr & Gallagher LLP, faulted the transcript, which quotes Gooch as calling BGC's structure and stock "an extremely risky dividend Ponzi scheme" poised for collapse.
"That should have been corrected," Mundiya said. "That's just factually inaccurate."
The deposition was transcribed by David Feldman Worldwide. Michael Feldman, the company's president, said the Ponzi reference is in fact wrong, and that Gooch had said "extremely risky dividend-policy scheme."
Gooch and other defendants in the shareholder suit believe the claims "are without merit and intend to defend the litigation vigorously," GFI said in a regulatory filing last week.
Final Bid
Gooch's investment firm, Jersey Partners Inc., owned 46.5 million shares of GFI, a stake that was worth more than $280 million at Lutnick's final bid of $6.10 a share. Gooch's employment agreement also included a performance bonus, potentially softening the blow of selling to his competitor.
"We are excited to bring these two great companies together," Gooch said in a Feb. 20 statement announcing the sale to BGC. "I look forward to building upon our success to create an extraordinary partnership."
BGC shares have returned 4.2 percent this year, including reinvested dividends, outpacing the 1.9 percent gain for the Russell 2000 Financial Services Index.
The shareholder case is Gross v. GFI Group Inc., U.S. District Court, Southern District of New York (Manhattan).