pursuits
Islamic State Seizes Control of Palmyra, Ancient Syrian City
Dana Khraiche and Nadeem Hamid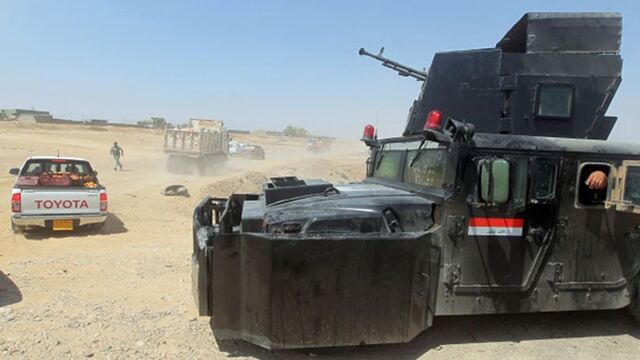 Islamic State militants seized control of Palmyra, a city in northern Syria that's home to one of the region's most renowned classical sites, according to the Syrian Observatory for Human Rights.
The fate of Syrian army units defending the town wasn't immediately clear, the U.K.-based watchdog said in an e-mailed statement. The Observatory had reported the capture of northern parts of Palmyra by the jihadists earlier on Wednesday.
Palmyra, 240 kilometers (150 miles) northeast of Damascus, contains the ruins of a 2,000-year-old city that was one of the most important cultural centers of the ancient world. Syrian government forces were shelling Islamic State positions in an attempt to repel the advance, pro-government Ikhbareya television said.
Islamic State began an offensive to take the city, the largest in the Syrian desert, and surrounding villages to its east about a week ago. The group has also made a breakthrough in Iraq in the past week, seizing control of Ramadi, the capital of Anbar province.
Controlling the area around Palmyra may enable the jihadist group to link territory under its sway in Deir Ezzour to Syria's border with Iraq, according to Rami Abderrahman, head of the Observatory.
Celebrated Ruins
"Very few government forces exist between Palmyra and the Iraq-Syrian border, and this is a large geographic area," he said by phone.
Palmyra flourished as a caravan station on a trade route linking Persia, India and China with the Roman Empire. Its art and architecture fused Graeco-Roman techniques with local traditions and Persian styles. Among its most celebrated ruins is a grand, colonnaded street that links major monuments including the Temple of Ba'al, a deity worshiped by ancient Middle Eastern communities.
The Syrian government moved artifacts from Palmyra's museum to Damascus about 10 days ago, local opposition groups said. Even so, the prospect of the city's fall has sparked concerns for its future.
"The fear lies in turning this ancient site into a battle ground," said Maamoun Abdulkarim, head of the Directorate General of Antiquities & Museums in Syria, by phone from the Syrian capital. He warned that Islamic State may seek to destroy it as a form of "revenge" against international secular culture.
The group has bulldozed important monuments in Syria and Iraq, including the World Heritage Sites of Nimrud, Nineveh and Hatra.
The U.S. is "deeply concerned" by reports of the attack on Palmyra, though it doesn't have full details of the latest situation there, Marie Harf, a State Department spokeswoman, told reporters in Washington. "We hope that these sites are not further damaged by the fighting," Harf said.
(Updates with U.S. comment in last paragraph.)
Before it's here, it's on the Bloomberg Terminal.
LEARN MORE