politics
Hillary Clinton Gives Decaf Campaign a Double Jolt in Iowa
On the campaign trail with the Democratic front-runner, the ordinary becomes extraordinary.
By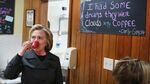 Hillary Clinton usually orders tea when stopping at cafes in Iowa and New Hampshire to chat with voters. On Tuesday afternoon, she went for something stronger.
"I needed a shot of espresso to get going here," she said at Em's Coffee Co. in Independence, Iowa, after quickly throwing back her serving.
If Clinton needed the jolt, so did her campaign, which has been running on decaf for so long that it's been drawing unfavorable notice. She's kept both her public schedule and the substance light, avoiding weighing in on issues being debated on Capitol Hill and skirting the media.
In Cedar Falls on Tuesday, Clinton addressed both. Never mind that she didn't stake out a position on the Trans-Pacific Partnership and only spent five minutes talking to reporters. That Clinton did both turned what for most campaigns would have been a routine day into an eventful one—and defused some public-relations pressure as her travel schedule begins to pick up.
Though a launch rally initially promised before the end of May has yet to be scheduled, Clinton is fundraising and meeting with union leaders in Chicago on Wednesday before heading to New Hampshire on Friday. Trips to South Carolina, Florida, Texas, Missouri, and Virginia are planned before the end of June.
Strategy and sparse scheduling helped Clinton go four weeks—two-thirds of her nascent presidential campaign—without talking to journalists, prompting attacks from Republicans and complaints from reporters. The slow, low-profile start she sought at the beginning of her first U.S. Senate campaign and during her first year in the Senate is proving difficult to reproduce now. 
No other candidate in the field is the kind of global celebrity whose every visit to a cafe or restaurant comes with an entourage of aides, Secret Service agents, and a horde of journalists that must be pared down to fit into the room. No other candidate could have set off the kind of frenetic scrum that Clinton did when she finally, after four weeks of avoiding the press, decided to take questions.
The moment came after an hour-long roundtable at Bike Tech, a bicycle and fitness store, where the conversation largely focused on boosting community lending and easing tax pressures on small business. 
'Why won't you answer any questions?'
Before she'd finished her talk, the room was already buzzing as Fox News's Ed Henry interrupted Clinton as she took questions from the small audience. On Monday, Henry had shouted, "Why won't you answer any questions?" as Clinton emerged from a grassroots house party in Mason City. The reporter, who happened to be staying in the hotel room right across from Clinton's on Monday night, shouted a similar question Tuesday.
"Wait, wait," Clinton responded, trying to cut Henry off. "Yeah, maybe when I finish talking to the people here. How's that? I might. I'll have to ponder it. But I will put it on my list for due consideration."

A few minutes later, after posing for photos with the roundtable participants and a small group composed of the audience, Clinton started walking toward an L-shaped horde of journalists, wielding everything from slim notebooks to video cameras. She seemed jovial. "Tell me something I don't know," she said, smiling.
The crowd lunged from behind an elastic rope. "Secretary Clinton, Secretary Clinton," shouted the TV reporters positioned closest to her, some raising their hands as they vied to grab her attention.
"Secretary Clinton, Secretary Clinton, what makes you so special that you don't have to answer the press's questions every day?" boomed the Daily Mail Online reporter, who earlier in the morning complained to other reporters that he couldn't get the campaign to respond to any of his e-mails.
"Bring some order out of this, bring some order," Clinton said, like a school teacher trying to calm an unruly class.  
Betting voters won't care
For just over five minutes, she responded to questions, which came mostly from TV reporters anxious for new sound bites on mostly old stories: the Clinton Foundation, Iraq, her income, her old friends, and her e-mails. Print journalists, who had been sitting behind the small audience that gathered for Clinton, were unable to capture her attention.
The scene seemed to justify Clinton's strategy. By holding off the press for so long, she managed to make the ordinary extraordinary, and the fact that she took questions at all overshadowed her largely newsless answers.
Clinton and her aides say the purpose of her early campaign is to reach out to the everyday Americans she comes across, to get a sense of the issues that matter most to them and how she can help. That's why she's eschewed interviews and kept her press availabilities to a minimum.
They're betting that most voters who would even think about voting for her don't care and, indeed, even to some members of the media, it's little more than a frustrating friction point. In practical terms, there's little difference between a candidate who doesn't answer any questions and one who answers a few shouted queries from time to time. Neither gets at substantive policy questions or into the rope-a-dope of daily politics. Instead, the questioners lean on predictable tropes, the candidate gives predictable answers, and the news cycle rolls on.
Seizing the political high road
A similar strategy also appeared to be working in Clinton's favor on release of the e-mails she sent on a personal server while she was secretary of state. After the State Department said late Monday that it would need until January 2016 to fully vet the 30,000-plus pages she'd provided to the agency before deleting messages from a server kept at her Chappaqua home, Clinton seized the political high road.
"I want those e-mails out," the former secretary of state, who took her correspondence out of the public record in the first place by deciding to use private rather than government e-mail accounts, told reporters. "I'm repeating it here in front of you today: I want them out as soon as they can get out."
Meanwhile, back in Washington, a judge helped her out, ruling that the department should begin releasing the documents as they are vetted, rather than holding off until early next year, potentially until just a few days before the Iowa caucuses.
At the half-dozen roundtables she's done in three states, Clinton has been well prepared and an eager listener, nodding as the entrepreneurs or students or teachers sitting with her talk about her lives.
But when she's gone into restaurants and stores, those less calculated appearances have been largely free of substance. Clinton generally makes small talk with customers, asks the owners about the house specialties, and places an order.
To be fair, it can never be a casual drop into a coffee shop when a candidate is trailed by a dozen and a half journalists in a press pool along with the campaign's own photographer and videographer plus a few aides and Secret Service. But the curiosity she conveys during a roundtable discussion seems diminished once she's outside of the planned and vetted confines of a formal campaign event.
"I want to be the small business president," Clinton told Terry Tekippe, as they stood in the doorway of his family's shop, Hardware Hank's. But there were no questions about how his business was doing or how she could help.
She was a bit more joyful when she walked a few doors down to Laree's, a toy and crafts store. There, Clinton tossed a ball with glee and shrieked when a plush toy made animal noises. Still smiling, she turned away from the press to try on a pair of kaleidoscopic glasses so that the image of her wearing outrageous green goggles wouldn't be endlessly circulated.
She couldn't stop laughing when she picked up a book, Theories of Everything, and started reading aloud a passage about getting angry when listening to talk radio.
In all, Clinton spent only about half an hour in downtown Independence, climbing into her red rental minivan with a chicken salad sandwich for the road.
A few hours later, she was boarding a commercial flight in Dubuque on the way to her next stop: a 24-hour fundraising swing through Chicago.
Before it's here, it's on the Bloomberg Terminal.
LEARN MORE