Fraudster Sells 24-Bedroom 'King's Speech' London Mansion
Neil Callanan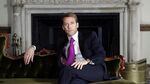 Edward Davenport, jailed for fraud for his role in a fake lender, sold a 24-bedroom mansion in London's Marylebone district that was featured in the film "The King's Speech."
The money raised from the sale will be used to repay 13 million pounds ($20 million) from a confiscation order by Her Majesty's Courts and Tribunals Service, the Serious Fraud Office said in a statement Wednesday.
Davenport was jailed for more than seven years in October 2011 for his role in Gresham Ltd., a company that said it offered to provide commercial funding in return for advance fees, the SFO said. After securing the payments, employees would make deceptive assertions to extract further fees, the SFO said in 2011.
The home on Portland Place became famous for hosting events attended by the rich and famous and was used in the 2010 Academy Award winning film "The King's Speech" in scenes where Colin Firth took speaking lessons. It was also used for sex parties, the Daily Mail reported in 2012.
Davenport acquired the home in 1999 from Sierra Leone's government, according to the building's website. It's owned by Portland Place (Historic House) Ltd., a company based on the Caribbean island of Nevis, according to a filing to the Land Registry.
Separately, former RGB Resources Plc chairman Virendra Rastogi paid 5.4 million pounds toward a 20 million-pound confiscation order against him, the SFO said. The money was raised from the sale of a property at Orchard Court in London, the authority said.
Rastogi defrauded JPMorgan Chase & Co. and other banks that provided the now-defunct metals trading company, also known as Allied Deals Plc, with cash backed by worthless assets.
Before it's here, it's on the Bloomberg Terminal.
LEARN MORE