The 50 States of Highly Specific Food Cravings
A new map uses Foursquare data to reveal the most unique tastes in food or drink, state by state.
By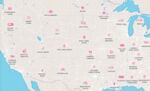 For your mealtime clicking pleasure: A new map from Foursquare and Mapbox charts the food items statistically most unique to each American state.
An algorithm parsed Foursquare's menus, tips, and ratings—which represent some 55 million users and 2 million businesses worldwide—to pull out the food or drink items most disproportionately popular in all 50 states and Washington, D.C., normalizing for population size. Developers also used the algorithm to determine a percentage that represents "the affinity for that taste over the national average."
A Foursquare representative tells me that in a just few cases, states overlapped in tastes, and an editorial team chose which to pair up. But for the most part, it's the search app's massive 6-year-old data set telling the story of America's highly, highly specific food tastes.
In Tennessee, restaurants and diners mention "banana pudding" at a rate some 318 percent higher than the national average: No surprise there, the state has a whole festival dedicated to the creamy yellow treat. And sure, it makes sense that Pennsylvania likes chicken cheese steaks 1,085 percent more than everyone else. But guess where foodies talk about "avocado toast" at 3,143 percent above the national average? Not California, but New York. California will take its Chinese Chicken Salad, thanks. And Nevadans? They just want bottle service—842 percent more than the rest of the country.
Also included in the map are listings for each state, recommended as places to try out these singular tastes. For the most part, these read fairly plainly: Sugarbush Farm in Woodstock, Vermont, sounds like a great place to pick up maple syrup. In other cases, you wonder whether it was a developer's sense of humor or failure to notice that, for instance, "Yellowstone National Park" is listed among the best places to "pick up" tasty, tasty elk. (The rangers would probably not appreciate that.)
Of course, this is me taking the map about 974 percent more seriously than it's meant to be. Have fun with it, and maybe even use it as an excuse to seek out these alleged "conch fritters" and "Brunswick stew" next time you're in the Panhandle.