What Presidential Hopefuls Say in Commencement Speeches
The best and worst advice for graduates from Hillary Clinton, Jeb Bush, and more.
By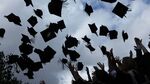 Commencement speeches are tricky, especially for politicians running for office. Right off the bat, candidates can find themselves at a disadvantage in terms of winning over an audience by virtue of the fact that they are not actors, comedians or famous writers. When students hear that their graduation speaker is a politician, they pretty much know they're not going to be getting David Foster Wallace's "This is Water." One common way of acknowledging their own lack of memorability is to open with a joke about that, a tactic preferred by both Mike Huckabee and Ted Cruz. Both have relied on some version of, "I know that thing you will remember least about this day is the politician who talked at you," Cruz on multiple occasions.