Tic Tac Adds New Flavor-Changing Varieties to Draw Millennials
Craig Giammona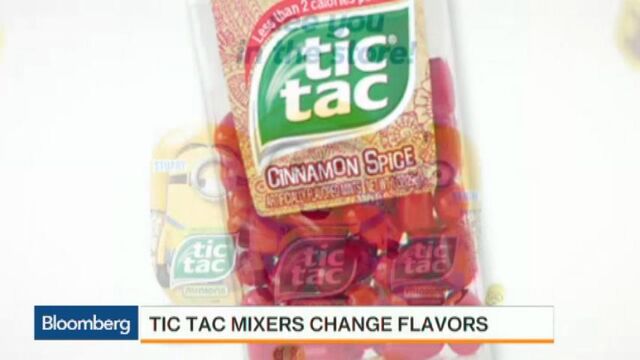 Add Tic Tac to the list of products that are being tweaked to appeal to millennials.
Tic Tac Mixers, which will begin hitting shelves in the U.S. next month, change flavors as they dissolve. The new varieties -- cherry cola and peach lemonade -- are the first major innovation for the brand since 2008 and were designed for young consumers who hate being bored, said Todd Midura, marketing director for Tic Tac in the U.S.

"It was really born from looking at consumer needs and trying to make sure we're appealing to those younger consumers," Midura said.
Tic Tac has spent the last 18 months evaluating why people buy the pill-sized mints, with a focus on millennials. Midura said there are two main reasons why customers purchase Tic Tacs: to freshen their breath, as is the case with white and green varieties, or for a "sweet, fruity moment," as with the orange flavor.
The company also identified a third reason consumers may want Tic Tacs: "emotional rescue."
"It's all about people wanting the product to entertain them," Midura said. "Younger people are really looking for a product to do that."
Tic Tac is owned by the world's second-biggest mint seller, Ferrero SpA. The brand's top sales market is the U.S., where it was the third best-selling mint in 2014, behind Ice Breakers and Altoids, according to Euromonitor International.
Tic Tacs were first sold in 1969, and the product has stayed mostly the same for more than 40 years. One adjustment came in 2010, and that was just to the packaging. Tic Tac enlarged its clear containers to accommodate 60 mints, up from 37, Midura said.
The company frequently surveys customers to see if it should update the packaging. So far, the answer has been a resounding "no," Midura said.
"There's an element of nostalgia," he said. "People love being able to see what's inside."