Thomas Cook Halts Fall as Child-Death Funds Handed to Unicef
Richard Weiss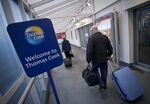 Thomas Cook Group Plc, lambasted in the U.K. media for retaining compensation it received following the deaths of two children at a Greek hotel it endorsed, gained in London Tuesday after saying the cash will be donated to charity.
The stock rose 2.6 percent before closing up 0.6 percent. It fell as much as 4.3 percent Monday after press revelations that Thomas Cook banked a payment for the deaths of Christianne and Bobby Shepherd from carbon monoxide poisoning, over which a jury last week found that it had "breached its duty of care."
Of the 3 million pounds ($4.7 million) received from hotel operator Louis Group -- more than four times the 700,000 pounds paid by the hotel company to the children's parents -- some 1.5 million pounds intended to cover legal costs will be donated to United Nations child-welfare program Unicef, Thomas Cook said Monday afternoon, helping to pare its decline that day to 3.2 percent at the close. The balance has been paid to insurers.
The children, aged six and seven, were killed in 2006 by fumes from a faulty boiler at a Louis Group hotel on the island of Corfu during a holiday booked through Thomas Cook. A Greek criminal trial in 2010 found hotel staff culpable, while acquitting Thomas Cooks's own employees, a spokesman said.
Thomas Cook Chief Executive Officer Peter Fankhauser, who took over in November after the surprise departure of Harriet Green, said on Monday that Britain's best-known travel brand "has not in any way profited" from its claim against the hotel owner, adding: "I apologize to the family for all they have gone through."
Thomas Cook shares have added 23 percent so far this year, recovering from their biggest drop since 2011 in the wake of Green's unexplained exit. That beats the 12 percent advance in the nine-member Bloomberg Europe Leisure Time Index and values the London-based company at 2.41 billion pounds.
Monday's decline had ended nine straight days of gains.
Before it's here, it's on the Bloomberg Terminal.
LEARN MORE