Chinese Professors Charged With Economic Espionage
Del Quentin Wilber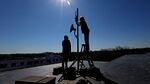 Six Chinese citizens, including two university professors, have been indicted on U.S. charges of pilfering sensitive mobile-phone technology from two companies in the U.S. and sharing it with the Chinese government.
The charges represent the latest salvo in the U.S. government's effort to pressure Beijing to stop what American officials say is the widespread theft of trade secrets to benefit China's commercial and military industries. In this case, the Justice Department alleges that two Chinese researchers at U.S. companies conspired with officials at a state-run university in China to steal wireless technology and mass produce it back home.
One of the six men, Zhang Hao, a 36-year-old professor, was arrested Saturday after his flight from China landed at Los Angeles International Airport. Zhang, who was visiting the U.S. to attend a conference, was ordered held after a brief court appearance Monday, according to a Justice Department statement.
Zhang and the others are accused of orchestrating a conspiracy that stole technology that filters radio signals in mobile devices from San Jose, California-based Avago Technologies Ltd. and Skyworks Solutions Inc., according to the 32-count indictment. Zhang and another alleged conspirator, Pang Wei, 35, are both professors at Tianjin University in China.
'Trade Secrets'
"The defendants leveraged their access to and knowledge of sensitive U.S. technologies to illegally obtain and share U.S. trade secrets with the PRC for economic advantage," Assistant Attorney General John Carlin said in a statement. "Economic espionage imposes great costs on American businesses, weakens the global marketplace and ultimately harms U.S. interests worldwide."
The indictment alleges that Zhang and Pang met during their doctoral studies at the University of Southern California, where they researched technology that helps to filter wireless signals in devices ranging from mobile phones to tablet computers.
After earning their degrees in 2005 and 2006, Pang began working for Avago and Zhang for Skyworks. By 2007, the duo were planning to steal the valuable mobile technology, which another conspirator described as simply "moving Avago to China," the indictment alleged.
Spokesmen for Avago, which has a co-headquarters in Singapore, and Woburn, Massachusetts-based Skyworks didn't respond to a phone messages seeking comment. Avago also didn't immediately respond to e-mails sent to its Asian offices.
'Grave Concern'
Neither Pang Wei nor Zhang Hao responded to e-mails, phone calls and text messages seeking comment Wednesday.
Chinese Ministry of Foreign Affairs spokesman Hong Lei said Wednesday in response to questions about the case that China was reviewing the allegations.
"China expresses grave concern about this case," Hong said at the ministry's regular press briefing in Beijing. "The Chinese government will make sure in bilateral exchanges that Chinese citizens' rights and interests will not be harmed."
At the center of the case were thin-film bulk acoustic resonators, or FBARs, which enable devices to filter wireless signals for users.
While working for the firms, Zhang and Pang stole "recipes, source code, specifications, presentations, design layouts and other documents marked as confidential" to enable them to produce the resonators in China, according to the indictment. They also established relationships with officials at Tianjin University, which agreed to support their efforts to create a plant in China.
University Support
In 2009, Pang and Zhang resigned from the companies and accepted professorships at Tianjin, which formed joint state ventures with the men to produce the resonators. The stolen trade secrets allowed the conspirators to construct a "state-of-the-art FBAR fabrication facility" and obtain contracts with commercial and military entities, the Justice Department said.
Tianjin University's public relations department said the school was "conducting an internal review," without further elaborating.
Gong Ke, who was president of Tianjin University in 2009, said in a text message that he's "very concerned" about the case. "I believe we should first protect their legal rights, and provide necessary legal assistant," said Gong, who currently heads Nankai University, also in Tianjin.
U.S. Pressure
Pang, Zhang and four others were indicted on charges of economic espionage and the theft of trade secrets. The espionage charge carries a maximum penalty of 15 years in prison. It's at least the 11th case in which the U.S. government has charged someone with economic espionage since the statute was enacted by Congress in 1996, the Justice Department said.
The U.S. government has been seeking to pressure China to halt economic spying, an effort that culminated in last year's indictment of five Chinese military officials on charges of cyberespionage. The Justice Department alleged that the hackers conspired to steal information from U.S. entities that would be useful to competitors in China.