Robert Gates Knocks Hillary Clinton on Trade
The former secretary of defense also makes an apparent dig at the freshman Republican senators running for president.
By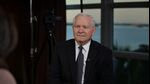 Former Secretary of Defense Robert Gates doesn't seem too impressed with the 2016 presidential field—including his ex-colleague, former Secretary of State Hillary Clinton.
"I'm sorry that Secretary Clinton has not come out in favor of the trade agreements," Gates said Tuesday on MSNBC's Morning Joe, referring to the Trans-Pacific Partnership that President Barack Obama is currently pushing.
He also said senators he's known often thought they were qualified to be president even when "unfortunately some of them were brand new," an apparent dig at the trio of first-term Republicans running for the 2016 nomination: Ted Cruz, Rand Paul, and Marco Rubio.
"Particularly on the Republican side, most of them have not been in jobs that required them to know anything or be involved in foreign policy," said Gates, who took over the Pentagon in 2006 under President George W. Bush and then served under Obama until 2011. "I'm not seeing a lot of courage out there, and I'm seeing a lot of very simple solutions to some very tough problems."
In Duty, his 2014 memoir of his years as head of the Pentagon, Gates was generally complimentary of Clinton. But he said he witnessed a moment when she and Obama suggested they had opposed for political reasons the Iraq troop surge Gates had overseen. He said in the book it "was as surprising as it was dismaying."
Clinton has shifted her views on free trade deals over the years, most recently suggesting the Trans-Pacific Partnership needs to protect American workers to get her support.