Marc Lasry Says Jeb Bush Would Be 'Reasonable' President
Saijel Kishan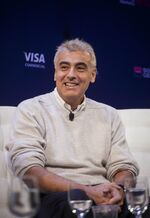 Marc Lasry, the investor who's raising money for Hillary Clinton's presidential campaign, said potential Republican candidate Jeb Bush would be a "reasonable" president.
"He would be reasonable, he'd be a good president," Lasry said in an interview Tuesday with Mark Halperin and John Heilemann on Bloomberg Television's "With All Due Respect." "I think I would look at it very differently with some of the other candidates."
Lasry, the billionaire co-founder of Avenue Capital Group, is close to Clinton, the former U.S. secretary of state who's seeking the Democratic nomination. He also backed ex-President Bill Clinton, and once employed their daughter, Chelsea, as an analyst at his New York-based firm.
Lasry, who told Bloomberg in April that he sought to raise $270,000 during the first week of Clinton's campaign, said Tuesday that a fundraiser at his Manhattan townhouse was oversold. He said Clinton's politics have moved to the left and that the vast majority of donors "won't have an issue with that."
The Democrats will probably raise just more than $1 billion, with the party's super-Pac's gathering less than those supporting Republicans, Lasry said.
He said that along with Bush, Wisconsin Governor Scott Walker and Florida Senator Marco Rubio are the strongest contenders for the Republican nomination.
Avenue manages $13.3 billion, according to its website. Lasry is also co-owner of the National Basketball Association's Milwaukee Bucks.
Related News and Information: Clinton Comes Out Swinging at CEOs and Hedge Fund Managers Why Hillary Clinton Can't Win the Fundraising Expectations Game High Taxes for Rich, Stronger Unions Mark Clinton's Likely Plan De Blasio's Hot-and-Cold Relationship With Clintons Continues
Before it's here, it's on the Bloomberg Terminal.
LEARN MORE