Malone Says Liberty, Vodafone Make 'Great Fit' in Europe
Kristen Schweizer and Amy Thomson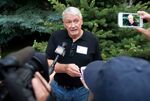 Liberty Global Plc Chairman John Malone said a tie-up with Vodafone Group Plc would be a "great fit" for his cable empire in western Europe, the billionaire's first public comments on a long-mooted combination of the carriers.
"We've looked at that from our side and there would be very substantial synergies if we could find a way to work together or combine the companies with respect to western Europe," the 74-year-old said in a phone interview Tuesday from Colorado.
Comparing Vodafone to "a big banana in the jar," Malone said: "The question is: how do you get your hand out of the jar with the banana."
Malone cited benefits of a merger in markets such as Germany, the U.K. and the Netherlands. At market prices, Vodafone's equity is valued at $93 billion, compared with $45 billion for Liberty Global. Including debt, Liberty Global has an enterprise value of about $88 billion. Malone declined to comment on whether the companies are in discussions. He added that from shareholders' perspective, there are "huge differences" in how the two telecommunications and media empires are run.
"The principal barrier to us, and I'm talking philosophically here -- I'm not making an offer to anybody -- philosophically, you have a different view of how a large company should capitalize itself," Malone said. "Their philosophy is low leverage, low risk and high cash payout to their shareholders. I prefer to grow equity value."
`Enormous Value'
"Is there a great fit in Germany? Absolutely. Is there a great fit in the U.K.? Absolutely. Is there a great fit in Holland? Absolutely," Malone said. "There's the promise of creating enormous shareholder value if we could work it out."
Vodafone shares jumped as much as 3.5 percent for their biggest gains in four months. They traded 3 percent higher at 233.45 pence as of 8:07 a.m. in London. Liberty Global closed 2.3 percent higher at $53.11 in New York.
Vodafone, the world's second-largest mobile-phone company with businesses from the U.K., India to Africa, has considered a tie-up with Liberty Global as it looks to cut its reliance on its mobile phone business, which has suffered because of a fierce price war in Europe. Liberty Global's interest in a potential deal with Vodafone reflects a deeper shift in strategy at a media and broadband company that until recently has shied away from owning mobile-phone networks.
In the interview, Malone said Liberty Global would buy mobile operators in countries where its presence is big enough, such as the Netherlands. Last month Liberty Global agreed to acquire Belgian carrier Base for $1.5 billion.
Last November, Bloomberg News reported that Vodafone was analyzing the financial and regulatory hurdles as well as investor support for a possible stock-based transaction with Liberty Global. Speculation over a linkup of the two companies has intensified in recent weeks, with Citigroup Inc. analysts saying a stock-based transaction could boost earnings at both carriers and generate synergies of 1.4 billion pounds ($2.2 billion) annually in free cash flow.
Colao Considers
Vodafone said Tuesday its service revenue returned to growth for the first time in almost three years. However, it also reported weakening performance in Germany and a profit forecast that may fall short of analysts estimates. CEO Vittorio Colao was asked several times about the likelihood of a linkup with Liberty Global.
"If we find things that make sense, whether it's Liberty or Hellas Online or whatever, we will look and consider and if there aren't, we continue with our organic strategy," he said during a conference call. He declined to comment whether there are ongoing discussions with Malone's company.
Ben Padovan, a Vodafone spokesman, declined to comment on Malone's remarks.
Virgin, Ziggo
Malone spent more than $50 billion consolidating Europe's media industry and building Liberty Global into one of the largest international cable operators. Liberty Global acquired British broadband provider Virgin Media in 2013 and Ziggo NV in the Netherlands last year. More recently, it has gone after sports rights with several content deals and purchased a stake in U.K. commercial broadcaster ITV Plc.
In the U.S., Malone is also busy consolidating the industry via Charter Communications Inc., going after cable targets such as Bright House Networks LLC and even Time Warner Cable Inc., after regulators rejected the latter's merger with Comcast Corp. last month.
"My observation would be a combination where we started 18 months ago," he said. "A horizontal merger if it were to take place."
Liberty Global is looking for acquisitions in South America to add to its businesses in Chile and Puerto Rico, in a region that's growing faster than western Europe, has more risk and where capital is more expensive, Malone said, adding that the most attractive market is Mexico and that he's also watching Columbia and Brazil with interest.
Before it's here, it's on the Bloomberg Terminal.
LEARN MORE