Jewelry Heist Suspects Detained by Police After London Raids
Kit Chellel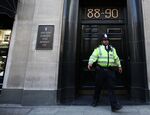 London police arrested seven men in their investigation into a jewelry shop robbery by thieves who drilled through two meters of concrete to get into a safe.
Scotland Yard detectives raided 12 addresses in London and Kent at about 10.30am Tuesday morning, and seized "significant amounts of high-value property," the Metropolitan Police said.
Over the Easter weekend, thieves used a heavy-duty drill to access the vault of Hatton Garden Safety Deposit Ltd. in central London and forced open as many as 70 safety deposit boxes. Police offered a reward of 20,000 pounds ($31,000) for information about the robbery.
The suspects, aged between 48 and 76, are being questioned at a London police station.
Before it's here, it's on the Bloomberg Terminal.
LEARN MORE