The 'Shocking' Cost of Letting Companies Pollute for Free
A new report offers a big-picture look at energy subsidies
by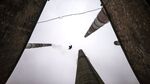 "Energy subsidy," as the phrase is tossed around Washington, typically refers to any financial help the government gives to producers of oil, wind, or other sectors of the energy industry.
But there's another way to consider energy subsidies that takes a bigger picture and conceives of all manner of help—financial or otherwise—as a subsidy. In that context, letting companies pollute for free, when that pollution carries a real social cost, can be thought of as a subsidy.
That's how researchers at the International Monetary Fund describe energy subsidies in a sobering new paper that puts a comprehensive price tag on global aid to the energy industry. The price tag, which IMF officials describe as "shocking," is a big one: This year, the report estimates, fossil fuels are being subsidized to the tune of $5.3 trillion, or 6.5 percent of global gross domestic product. 
The report breaks energy subsidies into two main classes. The first kind, which the IMF has called "pre-tax subsidies," includes the discounts that allow consumers worldwide to buy energy below what it costs to supply. These subsidies amounted to about 0.7 percent of world GDP in 2013. They're projected to fall to 0.4 percent of GDP this year, or $333 billion, mostly because of lower energy prices. 
The second category is called "post-tax subsidies." Why "post-tax"? (Presumably not just to be opaque.) This sum is driven by a hypothetical energy tax that includes several factors—global warming potential, air pollution, traffic accidents, and the other side effects of carbon civilization. The authors translated the environmental harm of fuels into this dollar figure and folded it into energy prices. The IMF researchers see a steady rise in such subsidies, from $4.2 trillion in 2011, to $4.9 trillion in 2013, and on to a projected $5.3 trillion this year. 
Far and away, the heaviest contributor to each energy source's "post-tax subsidies" is its environmental impact, according to the study. This chart breaks down, by fuel, the components of the post-tax subsidies in 2013 data. They include the entire first category (pre-tax subsidies), and the environmental impacts such as not paying for global warming, air pollution, and smaller factors. Coal's outsized pollution makes its combined financial and environmental subsidies the costliest of all the energy sources.

The elimination of all this direct and tacit support to the industry would free up resources that could be used productively elsewhere in the economy. Killing subsidies in 2013 would have yielded $3 trillion in global revenue in 2013, the authors found. That's more than governments collect from corporate income tax. Killing them this year would increase governments' revenue by $2.9 trillion and cut CO2 pollution by 20 percent.

If energy prices were to reflect their harm to the planet, the authors wrote, we'd probably use less fossil fuel. Not to mention, they note, that fewer people would die of air-pollution related causes, particularly in the coal-heavy developing world.

The biggest subsidizers are the usual suspects: China, $2.3 trillion; the U.S., $699 billion; Russia, $335 billion; and India, $277 billion. 
The study isn't a policy road map as much as an elucidation of a problem at the heart of resource economics. Energy prices aren't particularly efficient if the air we breathe and the climate we live in mean anything. 
There are attempts to rid the books of subsidies, but they've rarely made progress. For example, Republicans in the House of Representatives introduced a bill at the end of April that would eliminate the temporary tax break being given to wind-powered electricity generators. Beyond that measure, there's probably little immediate threat to energy subsidies worldwide. 
Before it's here, it's on the Bloomberg Terminal.
LEARN MORE