Five Things Everyone Will Be Talking About Today
It's been a busy morning already, get caught up here
By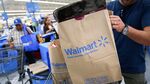 European stocks surge, the U.K. flirts with deflation and we're getting a read on the U.S. economy. Here are some of the things that people are talking about in markets this morning.
ECB comments send stocks soaring
ECB Executive Board member Benoit Coeure made the headlines this morning: Coeure said the central bank will frontload bond purchases in May and June ahead of a period of lower market liquidity in the summer. The euro dropped, European stock markets surged and sovereign bonds rallied following his comments.
Varoufakis thinks a deal is 'very close'
Greek Finance Minister Yanis Varoufakis told a Greek TV channel last night that Greece is "very close" to a deal, other officials are less enthusiastic. European Commission President Jean-Claude Junker told Bloomberg this morning that there will be no agreement for Greece at this week's summit in Riga.
U.K. inflation drops below zero
Consumer prices fell 0.1 percent in April from a year earlier. It's the first time since 1960 that inflation has dropped into negative territory. The current inflation rate is now way below the Bank of England's 2 percent target but the central bank isn't showing any signs of nervousness just yet.
More housing market data due
Investors will be looking to get another read on the housing market after data released yesterday showed an unexpected drop in confidence among homebuilders. Data on U.S. housing starts and building permits is due at 8:30 a.m. ET.
Wal-Mart earnings incoming
Retail sales data released last week painted an ugly picture of consumer sentiment. Today, we'll get more color on how active American shoppers have been: Wal-Mart reports first-quarter numbers before the bell.