Fed Minutes Guide: Rebound Confidence, Communications Challenge
Christopher Condon and Steve Matthews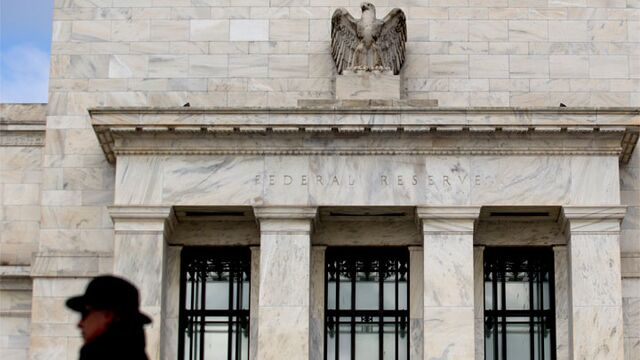 Here's what to look for when the Federal Reserve releases minutes from the Federal Open Market Committee's April 28-29 meeting at 2 p.m. Wednesday in Washington.
-- Glass half full or half empty? Investors seeking to assess the likely timing of the first interest-rate increase in almost a decade will seek confirmation that Fed officials expect the economy to bounce back from a dismal first quarter. Liftoff will probably occur in September, according to the median forecast in a Bloomberg survey of economists conducted from May 8 to May 13.
In its April statement, the FOMC said the economic slowdown partly reflected "transitory factors" and that it continues to expect the economy to grow at a "moderate pace."
"If they sound really confident about that in the minutes, then that's a sign: You have to think there is a good chance that they think they're going to hike in September," said Guy Berger, U.S. economist at RBS Securities Inc. in Stamford, Connecticut. "If they sound very skeptical, you'd start needing to worry about that rate hike coming later."

Harsh winter weather, a stronger dollar and flagging investment in the energy sector combined to bring the economy close to a standstill in the first quarter. The April FOMC meeting followed a report showing payrolls in March expanded at the slowest pace since June 2012.
Since the meeting, payrolls figures have improved, while weaker-than-forecast data on manufacturing and retail sales prompted economists to mark down projections for second-quarter economic growth.
Stronger Dollar
"The stronger dollar has hurt exports, and consumers are saving more and spending less than might have been expected," said Jonathan Wright, a professor at Johns Hopkins University in Baltimore. "The April statement left open the possibility that this is not all transitory, so they might expand on that," said Wright, a former Fed Board economist.
-- Jobs and inflation. Fed officials repeated in April that before they raise rates, they want to see further improvement in the labor market and be "reasonably confident" that inflation will move back up toward their 2 percent target over the medium term.
The FOMC discussion "was probably more about, 'Are we likely to meet our threshold for moving any time soon?', and the answer was most likely 'No'," said Roberto Perli, a former Fed board economist who is now a partner at Cornerstone Macro LLC in Washington.
Inflation Outlook
Neil Dutta, head of U.S. economics at Renaissance Macro Research LLC in New York, said the minutes could hint that officials were gaining confidence that the outlook for higher inflation is improving.
"Oil prices are stabilizing, moving higher," he said. "The dollar is coming down. Inflation expectations are rising." Consumer prices have been held down by cheaper oil and the strengthened dollar.
In its statement, the committee noted "the transitory effects of declines in energy and import prices." The Fed's preferred measure of consumer prices rose 0.3 percent in the 12 months through March 31, the same as a month before. It has been beneath the Fed's target since April 2012.
Policy Signals
-- Communication. Although officials say the FOMC is now "data dependent," with a rate increase possible at any meeting, policy makers may still try to avoid surprising markets by signaling their intentions.
"That's what I will be looking for in the minutes: How do they plan to communicate ultimately to the markets when they get close to a rate hike?," said Dutta.
That's important, he said, because investor expectations for the timing of a rate increase are later than the Fed's, he said. Eurodollar futures contracts indicate a shallower path for rate increases than the Fed's own forecasts, data compiled by Bloomberg show.
A surprise rate move could trigger an undesirable increase in long-term interest rates.
"The Fed, in their mind, is actually getting closer to a rate hike, and the markets are getting further away from a rate hike," Dutta said. "I think the communication challenge is still there."