Columba Bush Continues to Ease Her Way Into 2016
Despite her well-publicized reservations about being in the spotlight, she is slowly opening herself up to the public.
By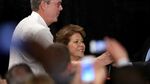 Columba Bush may be the political spouse best known for not wanting to be a political spouse, but that doesn't mean she isn't willing to try.
As her husband, former Florida Governor Jeb Bush, prepares for a likely Republican presidential campaign, Columba Bush is slowly making her way into the spotlight with new social media accounts and, on Monday, an op-ed in the Des Moines Register. 
"On Friday, I had the privilege of spending quality time with leaders in Iowa who work tirelessly to prevent and end domestic violence in this great state," she wrote. "I look forward to working side by side with Iowans to forge a brighter future for those most vulnerable and in need of our help." 
Many profiles have described how private Columba Bush is and how little interest she has in politics, even as a member of one of America's most famous political families. Writing about her work on domestic abuse—which her mother reportedly experienced at the hands of her father—is a way for her to introduce herself to the public through a cause she has been working on for years. 
Her op-ed, aimed at Iowans, comes as Jeb Bush addresses questions about how hard he will compete in the Hawkeye State after his formal entry into the race. His team said last week he would not take part in the Iowa Straw Poll this summer, but he later said he was "going to campaign hard here."
Columba Bush's op-ed also follows the debut of new Twitter and Instagram accounts last week, both of which link to her husband's political organization, Right to Rise. She will approve all posts, including family photos and Spanish-language messages, BuzzFeed reported, citing a source familiar with her plans. (She is a native of Mexico.) 
So far, both accounts include two pictures of her meeting with potential voters in Iowa. On Twitter, she also wrote about about the Iowa domestic-violence group and noted the press her new social media campaign was getting, saying in Spanish, "It will be a pleasure to talk with all of you on social networks!" 
Her future presence on the trail is another question. She made campaign and fundraising stops in recent days, but as for cooperating with a big profile in the Atlantic? No luck, author Hanna Rosin said in the magazine's June issue.