Bobby Jindal Takes to the Iowa Airwaves
The ad focuses on religious liberty and comes as a growing number of White House hopefuls seek to introduce themselves to voters.
By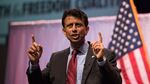 Louisiana Governor Bobby Jindal, a likely Republican presidential candidate, appears in a new television ad about religious freedom set to air in Iowa, an advocacy group he founded said Tuesday.
"The United States of America did not create religious liberty," Jindal says in the ad from American Future Project, which features him speaking in graduation regalia at Liberty University, the Virginia evangelical college founded by Jerry Falwell, among other settings. "Religious liberty created the United States of America."
Jindal becomes the latest Republican presidential contender to appear in a glossy video, the kind of which will only multiply on the Web and television airwaves as the primary race intensifies. Former Texas Governor Rick Perry used one in February to highlight his military service. Former Arkansas Governor Mike Huckabee preceded his May 5 announcement with a spot about his history going head to head with the Clintons. Kentucky Senator Rand Paul briefly appeared in a cable ad in April attacking Hillary Clinton, who formally joined the race that month as the Democratic front-runner.
Jindal said Monday he has formed an exploratory committee, ramping up his preparation for a White House run. Like Senator Lindsey Graham of South Carolina, Jindal has left observers little doubt that he will formally join the race soon.
American Future Project said this was its first TV ad, and the focus on religious liberty highlights how Jindal will likely seek to gain an edge in the crowded field. Last month, he took to the New York Times opinion page to explain why he is "holding firm against gay marriage." 
The ad's audience of Iowa voters will kick off the presidential nominating contest in caucuses next year. The ad buy is in the five figures, and it will air on cable and online in Iowa for a week, said American Future Project spokesman Henry Goodwin in an e-mail.