Why is John Doe Chasing Scott Walker in Wisconsin?
The Supreme Court won't stop a state investigation into whether an outside group improperly coordinated activity with the governor's campaign in the 2012 recall election.
By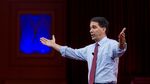 The U.S. Supreme Court refused on Monday to end a state criminal investigation into whether a conservative group improperly coordinated with Wisconsin Governor Scott Walker's 2012 recall campaign.