Skip McGee, a Veteran of Wall Street, Starts Anew With Intrepid
Matthew Monks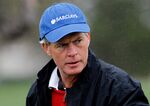 Hugh "Skip" McGee, the energy banker who rose to become Barclays Plc's top-paid executive before he stunned Wall Street by resigning last year, is returning to his roots.
McGee has opened a new firm, Intrepid Financial Partners, to advise energy and power companies. It has six employees, a seed investor, a newly furnished office in New York and an empty one in Houston.
With McGee at the helm, Intrepid will be an old-school merchant bank, which means it will offer merger and restructuring advice to clients, and invest in them when it makes sense. Like other bankers who've struck out on their own, he's counting on old relationships to bring him new business.
"I know a ton of people in the oil patch," said the 56-year-old Texan who founded and ran what today is Barclays's muscular energy practice in the early 1990s, when he was working at Lehman Brothers. "If I am ever going to do my own deal now is the time."
Dressed in a crisp white shirt with his initials on the cuff during an interview in his modest new office in midtown Manhattan last week, McGee said it's a good time to start an energy boutique. Wild swings in oil prices mean a lot of energy companies are in the market for advice. McGee is betting they don't need -- or want -- to buy it from mega bank.
"I think the world is tilting toward the boutiques," McGee said. It certainly seems that way: so-called independent investment banks are rising in the rankings among advisers on acquisitions in the U.S. and Western Europe.
Small Competitors
Noble Energy Inc. tapped the small firm Petrie Partners for help buying Rosetta Resources Inc. in a $3.9 billion deal. Robey Warshaw LLP, a two-year-old bank with fewer than ten employees, was one of just three advisers on BG Group Plc's $70 billion sale to Royal Dutch Shell Plc.
Intrepid will square off with other well-established energy boutiques including Tudor, Pickering, Holt & Co. and Simmons & Co., for talent and deals. Other firms with strong energy and power practices include Evercore Partners Inc. and Lazard Ltd.
Also joining the endeavor is Chris Winchenbaugh, another veteran of Lehman Brothers and later Barclays, where he served as chief operating officer for the Americas. Matthew Hart, a former Lazard banker is in charge of building Intrepid's restructuring practice.
They're hiring. McGee said he aims to have 35 people in New York and Houston by this time next year. He and Winchenbaugh spent 90 minutes with a potential candidate last week.
"We're connecting with some people that we've worked with in the past," McGee said. "In the days that I have been in Houston, I have two or three breakfasts every morning."
Track Record
The question is whether McGee can recruit the talent to carve out a niche in one of the most brutally competitive areas of corporate finance.
"I think he has a chance to get some really good people," said Marc Lipschultz, the head of KKR & Co.'s energy and infrastructure group. "He is the kind of person people would want to bet on."
McGee, who grew up in Houston, has a track record that includes some of the sector's largest deals ever, including XTO Energy's $41 billion sale to Exxon Mobil Corp. He has enough pull with wildcatters that he can compel them to do things outside their comfort zone -- like talk to the press.
"I usually don't give interviews but I'm doing this for Skip," said Jeffery Hildebrand, chief executive officer of Hilcorp Energy, a Houston-based oil and gas explorer. "We went to high school together."
Lehman Brothers
Hildebrand -- before hearing a question -- reeled off a slew of adjectives to describe his friend, including "creative," "highly-intelligent," "driven," "client first," and "broker-fee second."
"Simply put, he's a winner, and he's going to succeed," Hildebrand said.
McGee spent 15 years at Lehman Brothers before it went bankrupt and sold most of its operations to Barclays where he was named CEO for the Americas in 2013. He left about a year ago as it set out to make deep cuts across investment banking, as new rules hurt profits.
While other Lehman Brothers veterans including Mark Shafir and Paul Parker have joined other big banks, McGee says he's not interested and turned down at least one offer from a major firm. A headhunter tried to cajole him to reconsider by saying it would be be another chance to be in charge of thousands of people.
'In Control'
"And this is a good thing?" McGee recalled telling the recruiter. During his last days at Barclays he was spending most of his time dealing with internal matters such as regulatory compliance, while he'd rather be working with clients.
"In this situation we'll be in control," he said.
With Intrepid, everything is in McGee's hands. He cut one slicing tags off the new office furniture.
There have been other pains. Someone had to run out for printing paper the other day. Picking the name was a headache too -- he asked his wife and three kids to help. They settled on Intrepid, another word for bold.
"Once you form a company the hardest thing to do is come up with a name," McGee said. "Every cool Greek and Roman god? Gone. Every cool animal? Gone."