Rand Paul: The Iraq Surge Worked
The senator finds some common ground with Jeb Bush.
By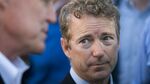 After a short speech and rally outside of Independence Hall in Philadelphia, Kentucky Senator Rand Paul told reporters how he might filibuster the Patriot Act–and continued his argument with Jeb Bush over the value of the Iraq War. Bush, after a fumbling week of Iraq answers, had told reporters that Iraq was basically stable after the troop surge ordered by President George W. Bush.