Lindsey Graham Says He Will Announce 2016 Plans June 1
He also takes on the Iraq question that's challenged Jeb Bush and Marco Rubio.
By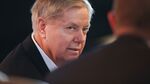 Senator Lindsey Graham said Monday he will announce his presidential campaign intentions June 1 in his home state of South Carolina.
The Republican has left little doubt that he plans to formally join the race. Asked on CBS whether he's running because the GOP field isn't sophisticated enough on foreign policy, his core issue, Graham said, "I'm running because of what you see on television. I'm running because I think the world is falling apart."
Graham said that "we don't have enough military presence on the American side to change the tide" in Iraq. He added that some 10,000 troops are needed to fight the Islamic State and help Iraqi forces take back cities the militant organization now controls. The greatest threat of a possible terrorist attack on the U.S. comes from Syria, he said.
Graham also addressed the same question that has challenged former Florida Governor Jeb Bush and Florida Senator Marco Rubio, likely White House rivals, in recent days: Whether he would have authorized the Iraq War, knowing what he knows now. Graham said "probably not."
"But that's yesterday's thinking," he said. "What do we do tomorrow and the day after? We have to reset Iraq."